BOJ's Kuroda Sees Interest Rate Staying Ultralow Into 2023
(Bloomberg) -- Bank of Japan Governor Haruhiko Kuroda said interest rates would likely remain ultralow into 2023 and warned that the coronavirus pandemic could end up having a longer-than-expected impact on the economy.
"Whether it's the fiscal year 2021 or 2022, I do feel we're a long way from a situation where we can raise rates," Kuroda said at press conference in Tokyo, essentially ruling out the possibility of higher rates before his current term as governor ends in April 2023.
For now the central bank needed to focus on helping firms in Japan that are still under severe financing stress, Kuroda said, adding that he was determined to support businesses with lending for as long as needed during the crisis.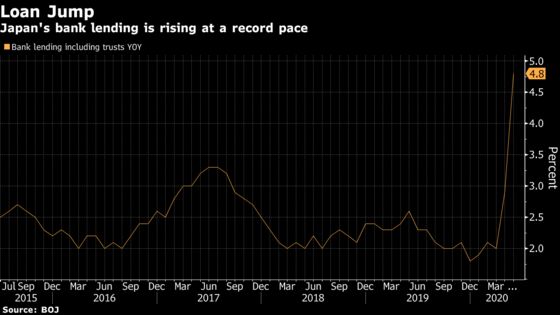 His remarks suggest that as the virus leaves scars on the world's third-largest economy, the need for continued support from the central bank is set to continue for years to come, especially if the Federal Reserve keeps its rates at rock-bottom levels.
"The BOJ is essentially saying that its virus programs are open-ended by showing its willingness to continue them due to the great uncertainty over when this is all going to end and how," said Kyohei Morita, chief Japan economist at Credit Agricole Securities Asia BV.
Kuroda's comments came after the BOJ earlier in the day increased its lending support for struggling companies to 110 trillion yen ($1 trillion) while leaving its main monetary policy settings untouched as it continues to monitor the economic fallout from the pandemic.
The extended period set out by Kuroda for not raising interest levels comes after the Fed hinted last week it would keep rates low through 2022, a link that economists were quick to pick up on.
Kuroda said it would be difficult to make any upward move in rates before the Fed.
The BOJ could find itself with even less leeway to adjust policy if the U.S. central bank adopts the yield curve control approach used in Japan since 2016, said Hideo Kumano, chief economist at Dai-ichi Life Research Institute.
The Fed's use of YCC would likely keep a narrower gap between Japanese and U.S. interest rates. Without a wider gap between U.S. and Japanese rates, the likelihood of the yen weakening any further is diminished, making the eventual goal of 2% inflation impossible, Kumano said.
Some economists have a different take, arguing that the fact the yen hasn't strengthened sharply despite a narrowing of the rate differential, shows the BOJ doesn't need to obsess so much about the risk of a stronger yen.
Whatever the analysis, with rate cuts and quantitative easing not packing the same punch as in the past to stimulate economies, YCC or other more tightly focused approaches to policy are now needed, Kumano said.
"Ichiro changed the way baseball was played with his skillful style. Monetary policy should be Ichiro-style from now on. You can't really hit many home runs any longer even if you want to," Kumano said.
The more immediate concern for the BOJ, though, is the survival of Japanese businesses.
The ramped-up aid to companies, while largely a result of an expansion of related government measures, showed the central bank's continued determination to support corporate financing and avoid a wave of bankruptcies wiping out jobs and production.
Kuroda said the programs were already helping firms and noted the recent record increase in bank lending in Japan.
The central bank's two lending programs are now worth 90 trillion yen, the BOJ said, with corporate bond and commercial paper buying making up the rest of the 110 trillion yen package.
Tokyo stocks, already buoyed by the Fed's move to buy individual corporate bonds, finished the day with strong gains, helped also by a Bloomberg report of U.S. plans to expand infrastructure spending. The Topix closed up 4.1%.
What Bloomberg's Economist Says

"The Bank of Japan continues to adapt its crisis-fighting measures -- strengthening the impression that it will do whatever it takes to keep Japan Inc. afloat during the pandemic. Its decision to expand its special lending program allows more leeway to support corporate financing in cooperation with the government.."

-- Yuki Masujima, economist

Click here to read more.