Kuroda Defends Price Target After Government Urges Flexibility
(Bloomberg) -- Bank of Japan Governor Haruhiko Kuroda said he's still seeking to deliver 2 percent inflation after the government voiced support for a more flexible approach to the goal, which hasn't been hit in a decade.
Japan must reach 2 percent to achieve a self-sustaining cycle of economic growth, where higher corporate profits and wages fuel consumption and investment, Kuroda said after a BOJ board meeting on Friday, when policy makers maintained stimulus while downgrading their economic assessment.
"The 2 percent target is something that the Bank of Japan's policy board has decided by itself," Kuroda said. "We think that making this a reality is necessary to achieve the BOJ's mission of price stability."
With policy side effects piling up after six years of stimulus, and a growing global debate over price targets, the BOJ faces calls to rethink its commitment to 2 percent -- which many economists deem unrealistic. The central bank has repeatedly pushed back its forecast date for hitting that goal, which Kuroda first predicted would happen within about two years.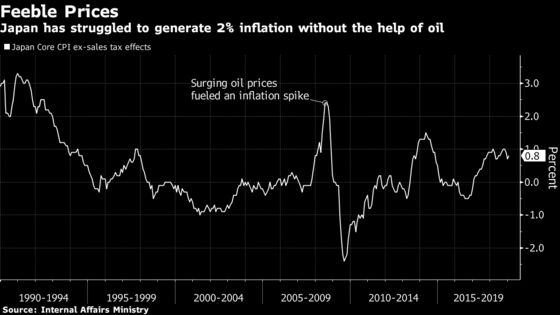 Finance Minister Taro Aso joined the fray on the price-target debate this week, saying things had changed since the BOJ and the government agreed to the goal in 2013. "You have to think about the possibility that things will go wrong if you focus too much on 2 percent," Aso said.
"This policy advice is unlikely to be popular among most central bank governors," said Shaun Roache of S&P Global Ratings in Singapore. "It could end up undermining already weak inflation expectations and make it even harder for central bankers to hit their inflation targets over a reasonable time frame."
With the BOJ's main price gauge currently at 0.8 percent -- and forecast by some economists to go to zero later this year -- the 2 percent price target could compel Kuroda to increase stimulus.
While most central bank watchers still expect the BOJ to stay the course, there is a growing minority who project the next move to be more accommodative policy.
Here's economists' views on the BOJ's price target
The central bank earlier on Friday decided to maintain its policy interest rates and asset purchases, as predicted by all 46 experts surveyed by Bloomberg. It downgraded its assessment of exports, factory output and overseas economies.
Slowing growth in China, the U.S.-China trade war and a disruptive Brexit could all still take a bigger toll on Japan's export-dependent economy.
Read more about the clouds gathering over Japan's economy
The central bank is hoping to ride out the current economic weakness, but the rough patch will no doubt put it into a tougher position by prolonging its struggle to reach 2 percent, said Naomi Muguruma, senior market economist at Mitsubishi UFJ Morgan Stanley Securities. "Over the longer term, the BOJ will probably have to reconsider again what the best policy framework is, given that it will take a very long time to hit the price target," she said.
What Bloomberg's Economists Say

"Weakening global growth is making life tougher for the Bank of Japan, as the downgrade in its economic assessment acknowledges. Even so, we think it will aim to ride out any mild economic turbulence within its current framework."

--Yuki Masujima, Japan economist
Click here to view the piece
Read more
Abe Government Reinforces Flexibility on 2 Percent Target 
Kuroda Roundly Rejects Modern Monetary Theory as Extreme