BOJ Holds Tight to Stimulus as Peers Dial Back From Crisis Mode
(Bloomberg) -- The gap between the Bank of Japan and its global peers widened on Friday.
The BOJ maintained its aggressive asset-purchase and yield-curve targets less than 24 hours after the European Central Bank mapped out an exit from its crisis-era policies, and just days after the U.S. Federal Reserve again raised interest rates.
Underscoring the divide, the BOJ downgraded its assessment of inflation while Governor Haruhiko Kuroda repeated his pledge to continue with stimulus until Japan reaches its 2 percent inflation target.
"It's appropriate for Japan to continue current powerful monetary easing persistently," Kuroda told reporters. He cited an entrenched "deflationary mindset" that's beset Japan for decades but "doesn't exist in the U.S. or Europe."
Economists, who were unanimous in forecasts for policy to remain unchanged, said there is little chance that the BOJ will consider an exit strategy in the near term. While Kuroda insisted that the longer-term price trend is positive, the BOJ said inflation is currently sitting in a range of 0.5 percent to 1 percent, weaker than around 1 percent earlier this year.
Kyohei Morita, chief Japan economist at Credit Agricole, said it's "crystal clear" that the BOJ is headed in a different direction than its peers.
"What's interesting is that there is not much call for the BOJ to add more stimulus," Morita said. "The BOJ has done so much and it's increasingly the view that the problem with Japan isn't monetary policy but more economic structure and growth strategy." He added that with Kuroda now into his sixth year of aggressive stimulus, the limits of monetary policy are on show.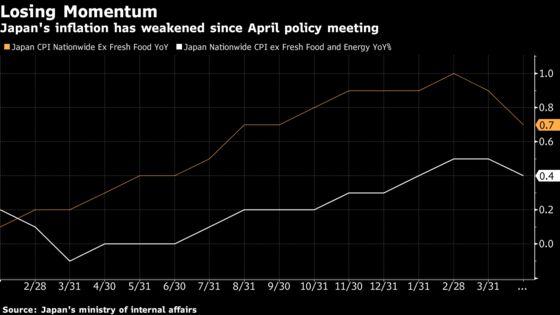 Kuroda said Friday that a stronger yen and cheaper accommodation prices had weighed on inflation. Yet he said momentum is intact and that the BOJ's current policy is sustainable.
JPMorgan and Bank of America Merrill Lynch are among those who in recent weeks have pushed back their expected timing of the BOJ's first move toward policy normalization. In a Bloomberg survey, 88 percent of analysts said it wouldn't start until 2019 or later.
"Inflation has certainly been lower than would've been expected," Federal Reserve Bank of St. Louis President James Bullard said in Tokyo last month. "It's been frustrating in Japan, but it's also been instructive for the rest of the world to understand what kinds of things can happen if inflation expectations get rooted at a low level."
What our economist says ...
"The Bank of Japan took a slightly dimmer view on current inflation in its Friday statement, but left its assessment of the trajectory -- a continued uptrend -- unchanged," according to Bloomberg Economics' Yuki Masujima. "To us, this suggests that little has changed in the outlook for monetary policy." 
Board member Goushi Kataoka dissented from the view that inflation would likely rise toward 2 percent, saying the probability of that was "low at this point." He said the BOJ should implement additional stimulus if it cuts its assessment of medium- to long-term inflation expectations. Kataoka has dissented for seven consecutive meetings.
There will be intense focus on the BOJ's next meeting at the end of July, when it is scheduled to update its inflation and economic growth projections. Kuroda said the BOJ needed further analysis and deeper discussion of inflation and the economy.
Core inflation, which excludes fresh food, slowed for a second straight month in April, to 0.7 percent.
Despite weaker inflation, few analysts forecast additional monetary easing. The BOJ's tool box is nearly empty and side effects are piling up after five years of extraordinary stimulus. The value of the assets on its balance sheet is set to exceed Japan's annual economic output in coming months, dwarfing the amount of assets accumulated by other major central banks.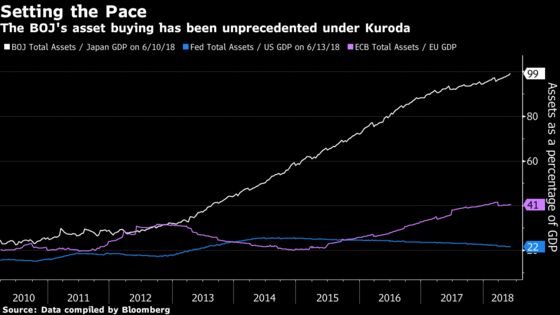 Key elements of the BOJ's yield-curve control policy
Interest rate of minus 0.1 percent on some reserves financial institutions hold at the BOJ.
Yield target of about 0 percent for 10-year Japanese government bonds.
Increase JGB holdings by about 80 trillion yen ($726 billion) a year.
Increase holdings of exchange-traded funds by 6 trillion yen a year and Japanese real-estate investment trusts by 90 billion yen annually.