BOJ Takes Slow Lane on Paring Covid Aid as Peers Accelerate
(Bloomberg) -- The Bank of Japan ended the second year of the pandemic in a very different place to other major central banks.
While the Federal Reserve and the Bank of England this week took aggressive steps to pull back from crisis aid, Governor Haruhiko Kuroda and his board slow walked it, extending assistance to struggling smaller businesses for another six months and paring back help for bigger firms from April.
In a press briefing after the decision, Kuroda acknowledged that his central banking peers were moving at a faster pace, but rejected the idea that those moves would influence the BOJ. After years of massive monetary aid that's failed to spur faster inflation in Japan, a widening policy gap leaves the governor with a lot of unfinished business as he heads into the final stretch of his tenure.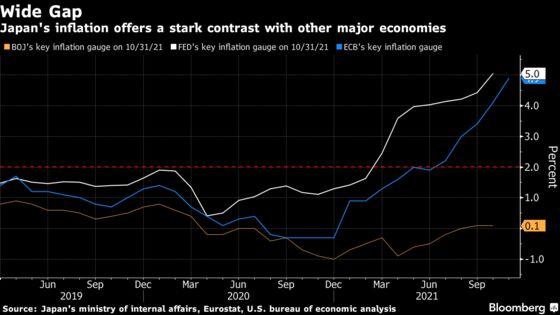 "Each country decides their monetary policy seeking stability in their economy and prices," Kuroda said. "It's only natural that there'll be directional differences."
While other banks are set to continue normalizing policy in 2022, the communication task faced by Kuroda in his last full year at the helm could get trickier as Prime Minister Fumio Kishida starts to consider replacements for the governor after a summer election.
"Once Kishida is done with the national election probably in July, the successor of Kuroda will be a huge topic for the market," said Kyohei Morita, chief Japan economist at Credit Agricole Securities Asia. 
Friday's decision by the BOJ underscores the different dynamics it faces as it struggles to stoke inflation even as prices surge almost everywhere else across the globe, fueled in part by pandemic stimulus settings.
Those overseas inflation concerns have prompted the BOE to hike rates and the Fed to end its bond-buying program sooner and signal three rate hikes next year. The European Central Bank is also winding down emergency measures. 
All now see inflation as a bigger threat to their economies than the virus.
In Japan, a far weaker price pulse is enabling the BOJ to continue its pandemic support and stick to a generally more cautious national view over Covid and its omicron variant.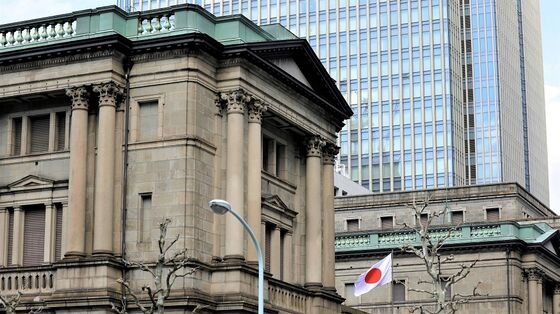 The BOJ said it will keep in place until the end of September incentives that encourage banks to lend to smaller businesses hurt by the pandemic using funds provided by the central bank. The lending facility had been scheduled to finish at the end of March.
At the same time, reflecting the more favorable funding environment for bigger companies, the BOJ said it will gradually lower its holdings of corporate bonds and commercial paper back to pre-pandemic levels of around 5 trillion yen ($44 billion), starting from April. 
Kuroda said that the draw-down of corporate debt would take about five years to play out.
"The BOJ is making it very clear that it's an outlier after the Fed, ECB and BOE moves," said Masamichi Adachi, chief Japan economist at UBS Securities. 
"The biggest point is that Japan has no inflation compared with others. Companies are not passing their costs on for fear of losing customers who have a deflationary mindset," he said.
That situation could change in 2022 if firms stop trying to absorb input costs that are currently at four-decade highs.
"The price of daily necessities are already rising and spreading and core inflation could hit around 2% early next year if the impact of cell phone fee cuts is excluded," said Tetsufumi Yamakawa, head of Japan's economic research at Barclays Securities, flagging upside risks to inflation.
"That could generate market speculation for policy normalization, potentially making BOJ communications extremely important next year," he added.
What Bloomberg Economics Says...

"The Bank of Japan is dialing back Covid-19 support -- the start of a shift to a post-pandemic policy -- but is keeping up stimulus in the face of the omicron threat to growth and core inflation stuck near 0%."

--Yuki Masujima, economist

To read the full report, click here.
Outside his controversial announcement of negative rates in January 2016, Kuroda has generally handled the thorny task of central bank communications well during his time as governor. 
He's managed to ramp up, then stealthily ramp down a huge quantitative easing program without veering from his full-bore stimulus message or buckling markets.
That could become more difficult if prices do bubble up in Japan and the composition of the board becomes less attuned to Kuroda's messaging, with names of possible replacements potentially surfacing.
For now, Kuroda looks ahead to 2022 with a course charted for paring back pandemic aid and a conviction that 2% inflation, in Japan at least, is still a long way in the distance.
"I don't see us moving toward monetary policy normalization in the way the U.S. and Europe are," Kuroda said.