BOE Steps Up Brexit Buffers as Carney Presses No-Deal Warning
(Bloomberg) -- Want the lowdown on European markets? In your inbox before the open, every day. Sign up here.
The Bank of England stepped up its defenses against a disruptive Brexit and Governor Mark Carney offered more warnings about the damage that a no-deal withdrawal from the European Union could do to the economy.
The central bank will offer lenders extra liquidity provisions around the March 29 exit date, a measure designed to smooth the plumbing of the market operating in times of potential stress. It mirrors its actions around the 2016 referendum.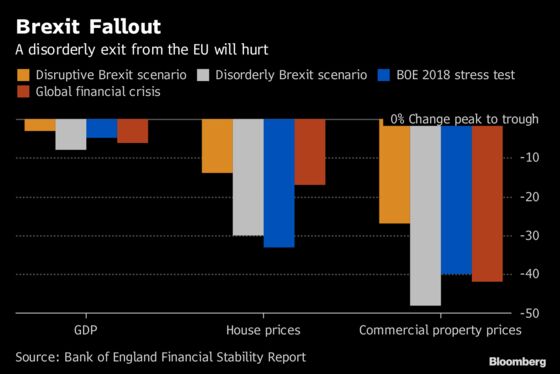 While there's a chance that Prime Minister Theresa May will delay Brexit and stop the U.K. leaving the EU by the end of March, the BOE's actions show it's not taking any chances. Carney has previously said that the financial sector should be able to cushion any blow rather than "amplifying a shock and being part of the problem."
In comments to lawmakers on Tuesday, Carney said it's certain the economy will suffer if there is no agreement with the EU in place. "If we're back here in May, and there's no deal, no transition, I guarantee you the path of GDP will be materially lower than it is in this February forecast now," he said.
His colleague Gertjan Vlieghe added that while businesses want clarity, going for a no deal outcome for the sake of ending the uncertainty would be far more disruptive.
"The only way to reassure them is to say, as the governor has been saying, whatever change you are going to make, tell people what the change is going to be then give them several years to prepare for that," he said. "Don't change the framework overnight."
Carney's warnings, which have earned him the ire of pro-Brexit lawmakers, are a familiar refrain, but they carry additional urgency given that there's barely a month to go before the formal exit date.
While the BOE can take steps to keep the financial system operating smoothly should the nation crash out without a deal, policy makers are sounding increasingly worried about U.K. firms.
On Tuesday, the governor said that a lack of warehouse space means companies stepping up their stockpiling efforts may find their preparations are inadequate for severe disruption.
The pound strengthened, hitting a 21-month high versus the euro, on speculation a delay to Brexit has become more likely. Against the dollar, it was up 1 percent to $1.3229 as of 12:31 p.m. in London.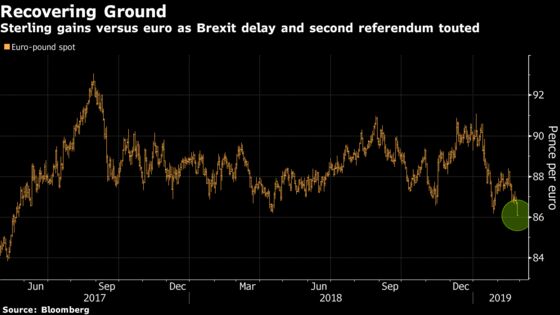 Carney said the extra liquidity provisions are a cautionary step, and that officials aren't currently seeing any signs of strain.
"This is a prudent and precautionary step, consistent with the bank's financial stability objective, to provide additional flexibility in the bank's provision of liquidity insurance in the coming months," the BOE said in a statement.