BOE Seen Holding Rates After August Hike: Decision Day Guide
(Bloomberg) -- After a flurry of August excitement that brought U.K. interest rates to the highest since 2009, the Bank of England is back in a holding pattern.
All 60 economists surveyed by Bloomberg predict officials will leave the benchmark unchanged at 0.75 percent on Thursday. While policy makers have said that "limited and gradual" hikes are needed in coming years, a unanimous vote is expected, with Jonathan Haskel falling in line with colleagues at his first meeting.
Read more on Thursday's central-bank decisons

Follow TOPLive's coverage of the BOE decision
The decision comes in the week that Chancellor Philip Hammond ended speculation about Governor Mark Carney's future by indicating that the Canadian would extend his stay until January 2020. That means he's available for longer in case the nation faces a turbulent exit from the European Union in March 2019.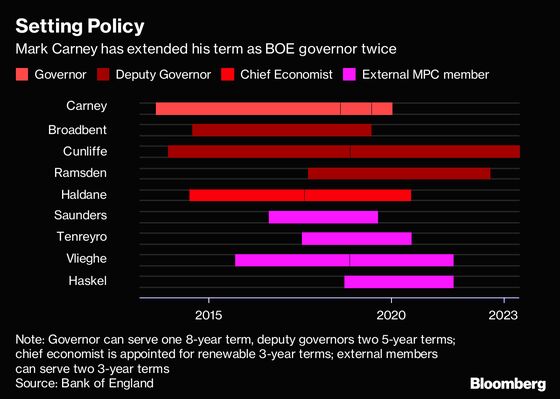 The decision will be published at noon, alongside minutes of the Monetary Policy Committee's deliberations. There's no press conference this month, although Carney is due to make a speech in Ireland on Friday.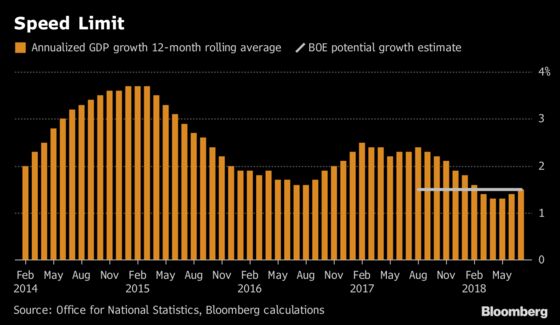 Since the BOE's last meeting, economic reports have borne out its arguments for action. The economy grew at the fastest pace in almost a year in the three months through July, and above the pace policy makers believe will fuel inflation. Meanwhile, earnings excluding bonuses rose an annual 2.9 percent in the period, with pay rising the most since 2015 in July alone.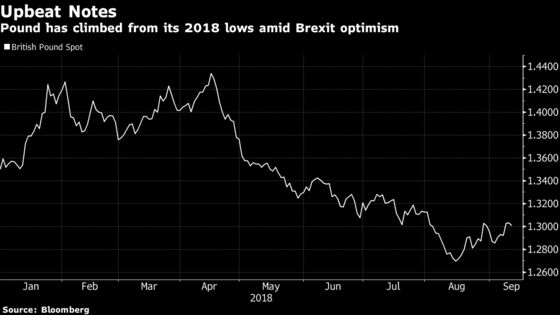 That may prompt a more upbeat assessment of the economy from BOE officials. There's also a possibility they will strike a more hopeful tone on Brexit, which remains the big question mark hanging over the U.K. economy. In recent weeks optimism that a deal can be made has increased, pushing the pound higher, even as Prime Minister Theresa May faces opposition from her own lawmakers over her latest plan.
What Our Economists Say...
"The minutes of the meeting will probably convey a sense of comfort that gradual removal of stimulus remains the correct policy prescription. The latest data, coupled with progress in Brexit talks, support our view that the next hike will come in May 2019 and another in November."

-- Dan Hanson and Jamie Murray, Bloomberg Economics. For full preview, click here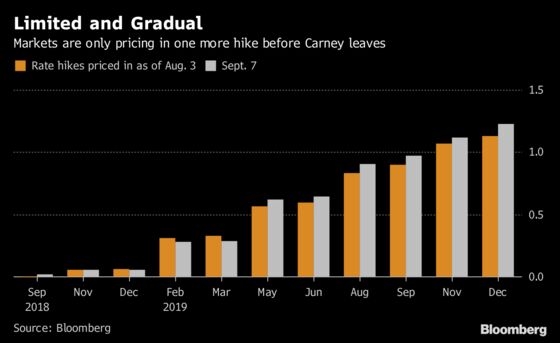 Markets see almost no chance of a move this week and seem to have taken the BOE's "limited and gradual" mantra to heart. Investors are pricing in a single rate increase by the end of Carney's new term, with expectations roughly unchanged since last month's meeting.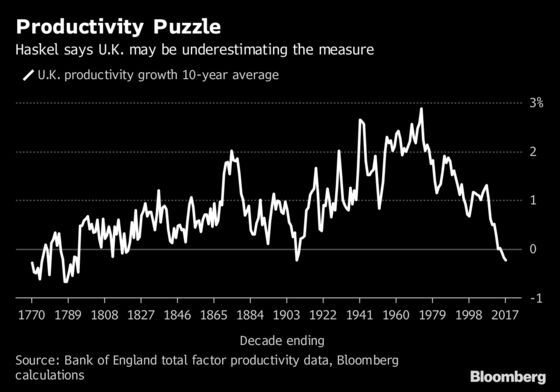 With no action expected, the market may also focus on any insight into the stance of the Monetary Policy Committee's newest member. Haskel's main area of interest is the U.K.'s sluggish productivity growth, which he says may not be quite as bad as current statistics show.
That doesn't have clear implications for policy. Higher levels of investment could suggest the underlying strength of the economy is greater than appreciated, suggesting the need for higher rates. It could also lead policy makers to conclude that the economy can grow faster without fanning inflation, which would support the case for keeping rates low.