BOE Steps Up Debate About Cutting Stimulus as Soon as Next Month
An unexpected surge in U.K. inflation and a record hiring spree are starting to convince some Bank of England policy makers that the time to step off the stimulus pedal is fast approaching -- potentially as soon as next month.
In the past two days, data showed consumer prices accelerating beyond the BOE's 2% target for the second month and companies hiring at the fastest pace on record, driving up wages.
Two members of the central bank's rate-setting committee said stimulus measures may have to be trimmed back. That prompted traders to bet on the BOE raising interest rates almost a year ahead of an expected lift-off by the U.S. Federal Reserve.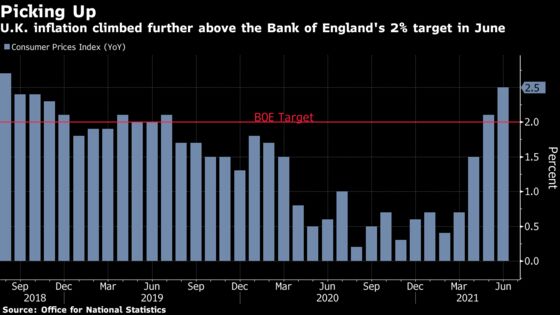 Michael Saunders, a former Citigroup Inc. economist and an external member of the BOE's Monetary Policy Committee, said policy makers should consider curtailing its bond-buying program "in the next month or two." He stopped short of saying how he'd vote.
Last night, Deputy Governor Dave Ramsden said he could "envisage those conditions for considering tightening being met somewhat sooner than I had previously thought."
The comments reinforce a change in tone among members of the rate-setting committee. Both officials voted in June to keep intact the central bank's 150 billion pound ($208 billion) bond purchase program. Andy Haldane, who served as chief economist until the end of June, was the only dissenter.
"It's a big shift," said Dan Hanson, senior economist at Bloomberg Economics. "It's also noteworthy that Saunders has led shifts on the committee in past. At the absolute minimum, it looks like we are heading for some hawkish dissent in August."
Jordan Rochester, a currency strategist at Nomura International Plc, said Saunders' remarks also carry weight because he's considered "an activist more willing to shift his view in light of the prevailing data rather than being stuck in his ways."
Rochester recommended shorting the euro against the pound to benefit from a hawkish BOE.
Traders now expect the central bank will raise interest rates 15 basis points from the current record-low 0.1% level as early as May next year, compared with August on Wednesday.
Government bonds fell after Saunders spoke, with the yield on two-year debt climbing five basis points -- the biggest move since February -- to 0.13%.
The economy is rebounding after plunging more than 10% in 2020. A report on Thursday showed companies added payrolls at a record pace in June and almost 1 million vacancies. Demand for staff rose, with vacancies exceeding their pre-pandemic level.
Wages including bonuses rose an annual 7.3% in the three months through May, the fastest on record. While those figures are heavily distorted by the number of jobs that were put on furlough, the ONS says underlying measures of wage inflation show increasing growth of 3.9% to 5.1%, or between 3.2% and 4.4% when bonus payments are excluded.
Some economists, however, are warning that the expiry of the government's furlough program in September will be a key indicator of unemployment and wage pressures.
"I don't think we should lose sight of the fact that there's still plenty of slack in the labor market in a number of dimensions whether it's furloughed workers, individuals that have left the labor market," said Sanjay Raja, senior economist at Deutsche Bank AG in London. "Looking at hours worked, it's clear that we are still some way away from a return to normal."
The remarks by Saunders and Ramsden stood out against the previous position of policy makers led by Governor Andrew Bailey, who have described some of the surge in inflation as "temporary." The bank in June said inflation would reach 3% this year and then fall back to their target.
Bailey maintained his neutral stance in an interview after Wednesday's inflation reading.
"Today's number -- yes, it was higher than we thought it would be," Bailey said, according to Business Live. "What we will have to do, again, is go through all the evidence and assess to what extent we think the sorts of things that underlie that are likely to be transitory."
Saunders said Britain's labor market is recovering well as the economy reopens and inflation may remain above the target in two or three years unless the BOE acts. He said inflation is likely to reach 3% this year and that it "would not be surprising" if it hit 3.5% to 4%.
"If activity and inflation indicators remain in line with recent trends and downside risks to growth and inflation do not rise significantly -- and these conditions are important," Saunders said. "Then it may become appropriate fairly soon to withdraw some of the current monetary stimulus."