Two BOE Officials Push Back on Talk of Imminent U.K. Rate Hike
Two of the Bank of England's policy makers signaled they're in no rush to raise interest rates, the first signs of a push back against market expectations for a move by the end of the year.
Catherine Mann said she "can wait" before raising rates because markets have already tightened financial conditions. That was hours after Silvana Tenreyro, considered to be one the BOE's most dovish policy makers, warned against a "self-defeating" hike to contain temporary inflation pressures.
Investors have priced in a rate rise this year and didn't budge after the comments on Thursday, suggesting traders think the nine-member Monetary Policy Committee remains dominated by hawks. BOE Governor Andrew Bailey in recent days has allowed speculation about a move this year to run ahead.
"Even for the more dovish members of the committee it now seems a question of when not if interest rates will rise," said Dan Hanson at Bloomberg Economics. "Mann's comments in particular suggest that the MPC may be willing to let words rather than actions do its work for now, but that strategy is unlikely to last long if the jobs market continues to charge forward."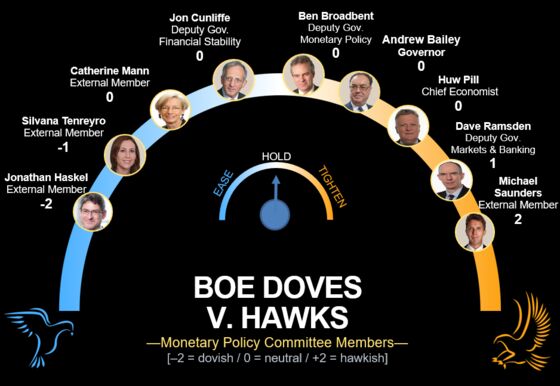 Mann, a former Citigroup Inc. global chief economist, said the impact of Britain's exit from the European Union as well as supply disruptions could mean that firms can pass on prices increases to customers.  
Her remarks suggest that while she may not vote to raise rates as early as this year, she generally accepts that policy tightening is in the cards. 
"The concern that I have is that the global factors and the border factors, with respect to U.K. prices, are going to boost domestic firms' pricing power relatively more in the U.K. than in ... the U.S. and the euro area," Mann said. 
Tenreyro told the BusinessLive Wales news website that Britain's economy remains weak after the worst recession in a century, with output the equivalent of a "full-recession" below its level before the coronavirus hit. She called inflationary forces mostly temporary and said policy makers should wait before moving.
"Typically, for short-lived effects on inflation, such as the big rises in the prices of semiconductors or energy prices, it would be self-defeating to try to respond to their direct effects," Tenreyro said. "By the time interest rates were having a major effect on inflation the effects of energy prices would already be dropping out of the inflation calculation."
The pound and U.K. government bonds were little changed after the comments by the two policy makers.
Traders are wagering the BOE will increase its key rate to 1% by the end of 2022, the highest in more than a decade, from the current level of 0.1%. Bailey and MPC member Michael Saunders appeared to reinforce signals for an imminent hike in interviews last weekend.
Mann had a different reading of the market, saying investors are preparing for an eventual tightening but also giving the BOE space to consider the best time to act. 
"Financial markets are doing their homework. They see that monetary policy normalization is the direction of travel," said Mann, who joined the MPC in September.