BOE's Carney Warns Against 'Weaponization' of Financial Assets
(Bloomberg) -- Bank of England Governor Mark Carney warned against the "weaponization" of assets in the global financial system as central bank chiefs fretted about the impact of a trade war.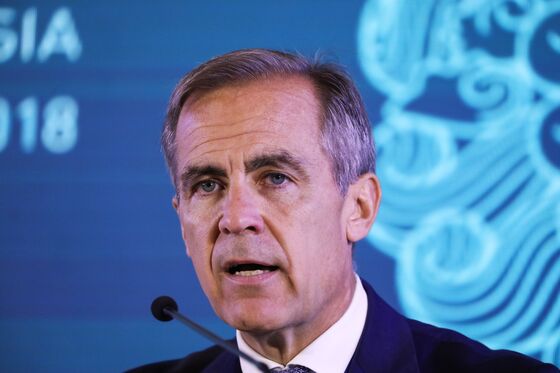 Speaking at the Group of 30 conference in Bali, Indonesia on Sunday, Carney stressed the need for investment flows to remain open, alluding to previous warnings that U.S. protectionism affects the real economy through direct channels like reduced trade flows, disrupted supply chains and higher import costs.
The use of secondary sanctions in the U.S. can effectively force European firms to stop doing business with third-country parties. For example, Germany and France have led attempts to continue trading with Iran as the U.S. threatened to blacklist companies and banks that defy new restrictions.
"From the United Kingdom's perspective -- as the second-largest asset management home -- the commitment to openness, an open resilient platform, there's no weaponization of finance," he told delegates.
Carney also gave rare praise to the Trump administration on Sunday for cooperating with the financial system to deliver reform.
"It's worked actively with the system with respect to the evolution of financial reform in a way that is promoting the resilience of the system," he said.