BOE's Broadbent Calls for Government Action on Inflation Indexes
(Bloomberg) -- A Bank of England deputy governor called on the government to bring the U.K.'s multiple inflation indexes into line on Tuesday.
Ben Broadbent told the House of Lords' Economic Affairs Committee, which is investigating whether the retail prices index is an appropriate measure of inflation, that any decision on the largely discredited gauge should also be aligned with the central bank's target. The U.K. now has three high-profile inflation gauges -- RPI, the consumer prices index that the BOE targets, and CPIH, the Office for National Statistics's preferred measure that also includes housing costs.
"I would have thought the government would want to ensure" that the index for the inflation target and government debt were the same, Broadbent said. "It has to be the government that is the mover here."
The use of different U.K. price measures for varying purposes has come under increased scrutiny in recent months. RPI, which dictates payouts in the more than 300 billion-pound ($391 billion) inflation-linked bonds market, also feeds into changes in rail fares and student loans. It lost its quality mark from the ONS and has long been criticized as a flawed measure.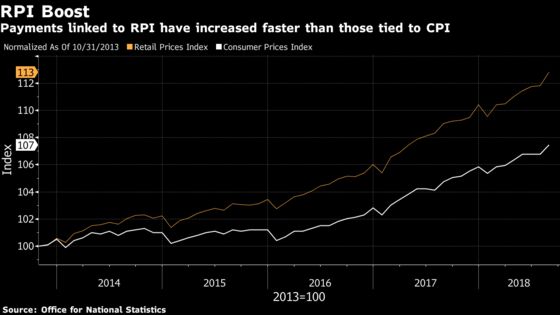 A move away from RPI-linked debt has been suggested before, but the Treasury said in 2013 it would continue to issue gilts linked to the measure. Though it tends to be higher than the more widely used CPI, pushing up the cost of living for commuters and students, the gauge benefits investors and pensioners whose payments are based on the retail index. The BOE has previously estimated the wedge between RPI and CPI at about 70 basis points.
Since the ONS announced that it favors CPIH last year, U.K. Chancellor of the Exchequer Philip Hammond has resisted altering the BOE's 2 percent target. While Governor Mark Carney has called for greater convergence of the three measures' use, he said earlier this year that CPIH lacked the "track record" to replace CPI as their inflation goal for now.