BOE Rate-Cut Bets Boosted as Central Bank Flags Brexit Armory
(Bloomberg) -- Traders loaded up on bets the Bank of England will cut interest rates to help contain the fallout of a potential collapse in post-Brexit trade talks after Governor Andrew Bailey said the central bank has a lot in its armory to deal with any disruption.
Speaking after the publication of the BOE's health check for the financial system, Bailey said the central bank has a substantial array of tools it would deploy if a disruptive Brexit causes substantial stress in markets. Investors are now almost fully pricing in a 10-basis-point cut to 0% in June.
Bets on easier policy have been supercharged this week as a stalemate in negotiations between the U.K. and European Union prompted Prime Minister Boris Johnson to warn of a "strong possibility" that the two sides will fail to reach a trade agreement. As recently as Monday, traders weren't expecting a 10 basis point cut for any meeting in 2021.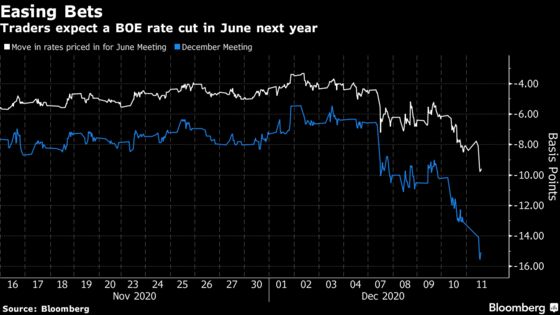 A rate-cut to 0% would sharpen the focus on the BOE's review of the the case for implementing negative rates for the first time. Two policy makers last week indicated they were open to taking such a step if the U.K. needs more monetary stimulus at some point in the future. Investors are pricing in a rate of almost -0.06% at the end of 2021.