BOE Is Holding Its Feet to the Fire on Hiring Women, Minorities
(Bloomberg) -- Go inside the global economy with Stephanie Flanders in her new podcast, Stephanomics. Subscribe via Pocket Cast or iTunes.
The Bank of England's most senior woman defended progress on diversity after unveiling new figures that show it still has a lot of work to do to boost the ethnic mix at its highest levels.
"We could have set ourselves a soft target and then declared victory, but actually what we really want to do is hold our feet to the fire and really go for a target that is extremely challenging," Chief Operating Officer Joanna Place said in an interview in London on Wednesday.
Senior managers at the three-century old central bank are now 31% female, up from 29% in 2018 and approaching its target of 35% by next year. Black, Asian and minority ethnic employees however make up just 5% of those in top jobs, less than half of the 13% goal for 2022.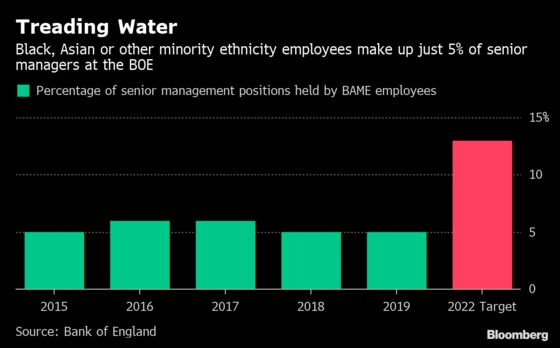 The BOE has a "good pipeline" with almost one in five employees identifying as BAME and a taskforce looking at initiatives to support their progress into leadership roles. 39% of September's graduate intake will be from a non-white ethnicity, she said.
Women make up 46% of staff at below the highest levels, and BAME employees 19%. The BOE is targeting rates of 50% and 20% by next year. There is also a need to consider diversity of thought and background in hiring decisions, said Place, a former math teacher.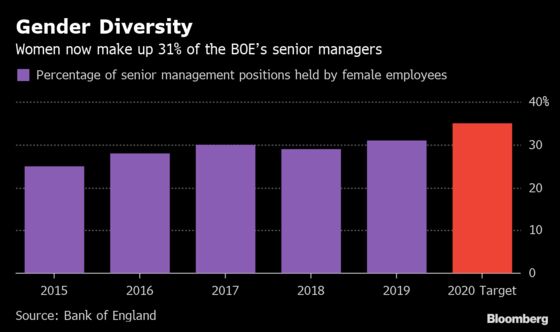 Mark Carney -- who put diversity at the forefront of his agenda as governor -- stood up for the BOE's track record on diversity at a May 2 press conference, saying the central bank is looking at "more than just who you bring in, but it's how you work, and how you act, and how you develop."
The BOE's median gender pay gap is now 23%, Place said -- the lowest since the figures started being reported in 2017. The institution has also seen a drop in the resignation rate among women to 6.4%, from 8.1% last year. The rate among men fell to 7.1%, down from 8.3%.
Of the central bank's five deputy governors, Place -- who is the only one appointed by the BOE rather than the Treasury -- is the sole female. Both the government-selected nine-member Monetary Policy Committee and 12-member financial stability group also only have one woman each.
The Treasury has hired Sapphire Partners to help in the search for Carney's successor when he steps down next year. The headhunting firm is run by female partners and specializes in diversity.