BOE Debates Beating Fed to First Covid-Era Hike: Decision Guide
The Bank of England will decide Thursday whether to deliver its first interest rate hike since the pandemic as a divided Monetary Policy Committee grapples with spiking inflation and slowing growth.
Financial markets anticipate a move, but economists are less certain and say the nine-member policy panel is split on whether to act now. An increase would be the first by a major-economy central bank since the crisis began.
Governor Andrew Bailey has made it clear his concerns are focused on reining in prices. Others have signaled they're relaxed about the timing of a move or focused on other issues, such as whether people on furlough will return to the labor market. 
Either way, the central bank's reputation is on the line, both in terms of its communication with markets and its credentials for fighting price pressures.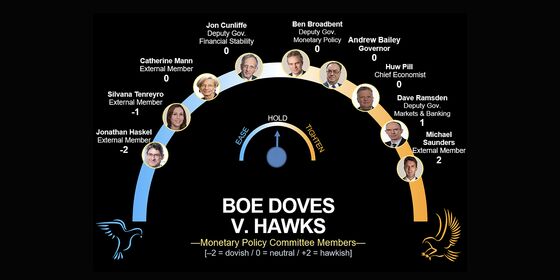 Ahead of the publication of November's decision at 12 p.m. in London, here are the four key questions the BOE needs to answer:
1. To hike or not to hike?
At the moment, the benchmark lending rate is at 0.1%, the lowest since the BOE was founded in 1694. Policy makers are further limiting the cost of borrowing in financial markets by buying 150 billion pounds ($205 billion) of bonds this year through a program known as quantitative easing. 
A few months ago, the thinking was the BOE would finish QE before raising rates, making an increase all but unthinkable this year. That shifted starting in September with unexpectedly strong inflation readings and a decision by the BOE to open the option of raising rates before the end of QE.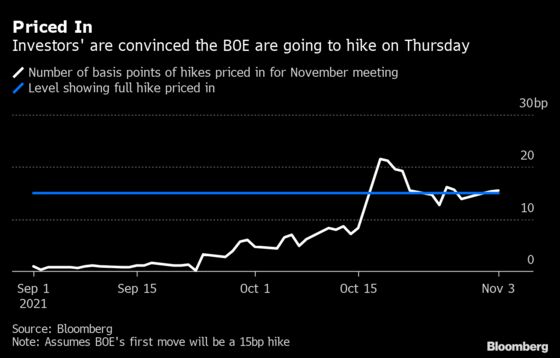 The benefit of moving in November is that the bank is also delivering economic forecasts and holding a press conference. That allows policy makers to set out the "hiking trajectory and reaction function clearly to households and businesses, something they won't have as many opportunities to do ahead of Christmas," said Deutsche Bank's U.K. economist Sanjay Raja.
Whatever the outcome, it's likely to be a close call. Bloomberg Economics sees a 5-4 split in favor of keeping rates on hold at 0.1%.  
2. What about quantitative easing?
The QE program clouds the decision on rates. Raising rates while buying bonds sends mixed signals to markets, at once both stimulating and restraining the economy.
Michael Saunders and Dave Ramsden already voted for an early end to QE in September. Bloomberg Economics reckons they will again this month, even though the program is due to wrap up on Dec. 15.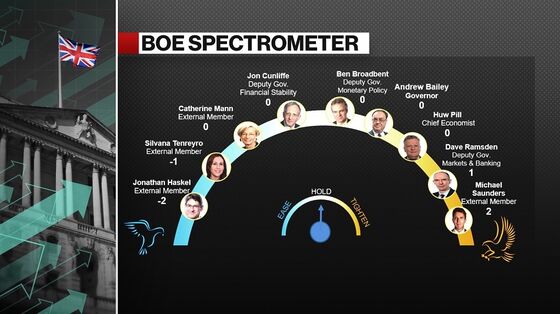 As of Nov. 3, the BOE held about 853 billion pounds of gilts, just below its target of 875 billion pounds, according Bloomberg calculations based on data from the central bank.
Ending QE early would go against previous guidance and may give markets reason to doubt future programs. Coming so soon after a budget slashed the outlook for government borrowing, it might reawaken accusations that QE only existed to fund the Treasury's spending through the pandemic.
3. What's the long-term outlook for rates?
While there is plenty of debate about what happens to rates on Thursday, how the BOE addresses longer-term expectations may be just as important.
Investors are currently pricing in a boost in the benchmark rate to 1.25% by the end of next year. Including changes to the BOE's balance sheet, that implies the fastest tightening cycle in at least two decades, which seems implausible after the worst recession in a century.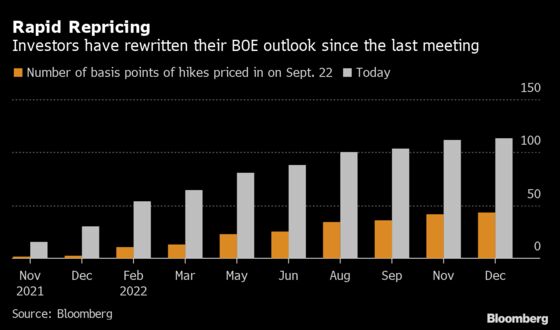 Some policy makers have signaled they want to see more data on the jobs market before moving, and that won't come until just before the December decision. They're also watching how coronavirus cases escalate and for signs of "renewed restrictions, lockdowns and stress on the National Health Service," said Barclays economist Fabrice Montagne.
Markets will mind Bailey's remarks for signs about how much more tightening is needed to bring inflation under control.
4. Where will inflation go?
The consumer price index rose 3.1% in September, significantly above the 2% target for a second month. New chief economist Huw Pill says it could top 5% this year, and an surprisingly expansionary budget from U.K. Chancellor Rishi Sunak may well fan those pressures.
Rising energy prices are driving the surge, with a leap in the cost of natural gas raising the price of electricity and heating. Oil prices have also climbed.
Another strain is a scarcity of workers. The labor market remains 1.5% smaller than it was at the start of the pandemic, but about 1 million workers were still receiving furlough payments at the end of September. Wages are rising, and if that continues it could feed inflation.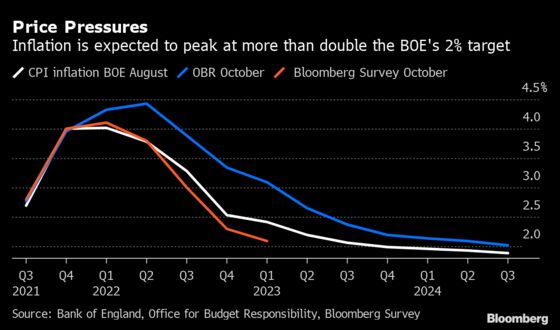 The latest forecasts will give an indication how much of the current spike in inflation is temporary.