BOE Defies Expectations, Keeps Policy on Hold: Key Takeaways
The Bank of England defied market expectations of an interest-rate rise, keeping monetary policy on hold on Thursday. 
Economists including Bloomberg Economics' Dan Hanson and HSBC Bank Plc's Liz Martins, had predicted that outcome that divided analysts and left investors wrong-footed.
Here are our key takeaways from the meeting, monetary policy report and press conference:
The monetary policy committee voted to keep interest rates on hold at a record-low 0.1%.
Governor Andrew Bailey said it was a "close call" for the nine-member Monetary Policy Committee. Two officials, Dave Ramsden and Michael Saunders, voted for an immediate increase. They warned that inflation is likely to remain above target for the next few years unless rates rise.
The bank's quantitative easing target was also left unchanged at 875 billion pounds ($1.2 trillion). A surprise dissenter in favor of cutting the target was Catherine Mann, who had sounded a more relaxed tone on the prospects for longer-term inflation in recent speeches.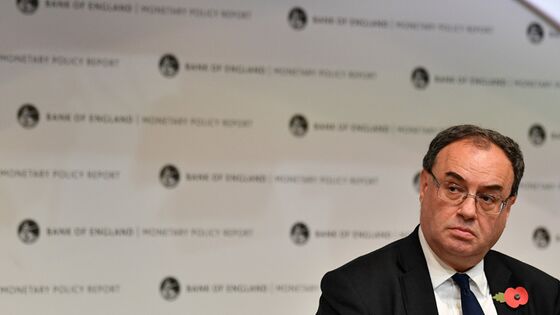 The "unreliable boyfriend 2"
Bailey was among those opting to keep policy unchanged, raising questions about his credibility with investors. He made a series of hawkish comments in the past few weeks including a remark that the bank would "have to act" to curb price pressures. Those allowed speculation to build about an immediate move. 
Commentators are already labeling him the "unreliable boyfriend 2." That's a reference to a previous episode under Bailey's predicessor Mark Carney when blamed the bank for poor communications when they were wrong-footed. Bailey disagreed with that assessment, saying he never made a pledge to act at any particular meeting.
Officials also pushed back against market pricing for the future path for rates, saying increases to 1% by the end of next year would leave inflation below target at the end of its forecast period.
Bailey made an explicit reference to such bets at the press conference after the decision. "I would caution against views on the scale of an increase that would be likely to push inflation below target in the future," he said.
The BOE indicated concerns over growth, despite Chancellor of the Exchequer Rishi Sunak's more expansionary than expected budget last week, and said it was prepared to wait for more information on the labor market before acting. 
Policy makers see job market frictions dissipating over 2022 and 2023, and cut their forecast for peak unemployment to 4.5% from 4.75%.
Even so, they increased their inflation forecast to show a peak of around 5% in April and said a hike would be needed in coming months if the economy evolves as forecast.