BlackRock's Emerging-Markets ETF Had a Record Month
(Bloomberg) -- The possibility of easing trade tensions between the U.S. and China is lifting global markets, particularly riskier assets. And while emerging markets are benefiting, the reality is investors have been pouring in for at least a month.
The $50 billion iShares Core MSCI Emerging Markets ETF, known as IEMG, took in a record $3.5 billion in November, the most ever for the fund, and nearly 22 million shares traded in the month, the most ever and more than quadruple its average monthly volume. This was before the meeting between U.S. President Donald Trump and Chinese President Xi Jinping at the Group of 20 gathering in Argentina on Sunday, where the countries supposedly agreed to a trade truce, although the nations appear to have different takes on what exactly was decided.
Emerging Market ETF Inflows Hit $2.63 Bln, Most in 10 Months
U.S.-listed developing-nation ETFs notched their seventh straight week of inflows on Nov. 30, as the idea that the Federal Reserve could pause on rate hikes next year combined with expectations of easing trade tensions ahead of the G-20 meeting bolstered the appetite for battered emerging markets, with Wall Street giants like Morgan Stanley and Vanguard Group Inc. joining a chorus of bullish calls.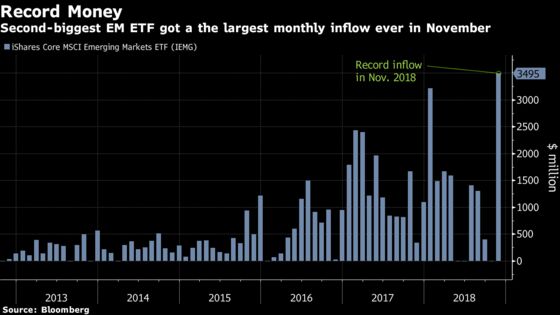 The apparent truce that came out of a highly anticipated dinner between U.S. and Chinese officials stoked emerging markets' appeal to investors. Concerns about a full-blown trade war have weighed on these countries for much of the year, with stocks entering a bear market in October after tumbling 20 percent from their peak.
Still, the talks between Trump and Xi didn't eliminate the uncertainty, as specifics are still missing on when and whether China will remove tariffs on imported automobiles, which the U.S. president announced in a tweet but has yet to be confirmed by his counterpart.