Jack Ma's Singles Day Is Coming for Black Friday
(Bloomberg Opinion) -- Watch out: Jack Ma's Singles Day is going to make Black Friday a lot less alluring. 
There's trepidation in the air this holiday season. In just a few brutal trading days, the whipsawing U.S. stock market wiped out its entire 2018 gain. Meanwhile, the U.S. economy is heading for a 10th year of expansion, by far the longest in history. As the global trade war escalates, how much longer can this prosperity last?
In uncertain times, there's only so much money a consumer is willing to spend. The retailers that are the first to scoop up this dwindling pot of gold are those most likely to stay in the black.
Already, U.S. retailers are piling into the Singles Day sale, originally a retail therapy concept invented by Alibaba Group Holding Ltd. founder Ma to console China's lonely souls on 11/11, a date that resembles bare branches. The event always falls before the Thanksgiving holiday on the fourth Thursday of November.
I'm not talking about the kinds of discount stores that resonate with shoppers on Ma's own Taobao platform. One example: Santa Barbara, California-based Aloyoga, which sells high-end yoga pants for more than $100 a pair, had already offered a 30 percent discount for Singles Day. So by Thanksgiving, I'm no longer interested in deals from Lululemon Athletica Inc. – my yoga urge is shopped out. (Aloyoga is offering the same 30 percent discount for Black Friday.)
Or consider Shopbop, an online apparel platform owned by Amazon.com Inc. For Singles Day, it was offering 15 percent off the entire site; so the 15 percent Black Friday discount on orders over $200 looks less appealing.
To be sure, Black Friday still offers great deals. Just before I started writing this, I placed an order for essential oils at Rocky Mountain Oils – 30 percent off. Now I plan to take a look at the J.Crew website – 40 percent off. Still, the race to be first to consumers' wallets is heating up: Days ago, retailers were sending out emails on their planned discounts.
Black Friday is a fun shopping event almost as ingrained in Thanksgiving tradition as turkey. But as consumers shift their purchases online, deals matter more than tradition.
Millennials, in particular, are value-conscious. According to a recent survey by Bank of America Merrill Lynch, more than three-quarters of consumers in this age bracket say they would take advantage of discounts on Black Friday or Cyber Monday, more than any other generation.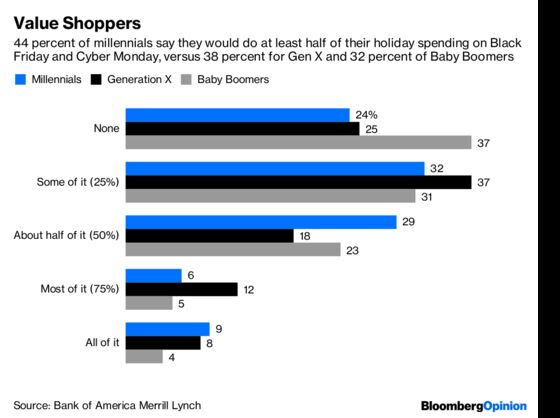 Clearly, Singles Day has not yet taken the U.S. by storm. In the BAML study, 61 percent of people surveyed said that by Nov. 19 they hadn't started holiday shopping. But as deals spread and retailers seize on any "event" as a hook for earlier discounting, it's only a matter of time. 
Chinese brands have had about as much global success as Chinese soft power, which is not much. Jack Ma, on the other hand, is on to something: Black Friday or Singles Day, all we want is a good deal.
This column does not necessarily reflect the opinion of the editorial board or Bloomberg LP and its owners.
Shuli Ren is a Bloomberg Opinion columnist covering Asian markets. She previously wrote on markets for Barron's, following a career as an investment banker, and is a CFA charterholder.