Clinton Highlights Pandemic Inequalities for Women: Qatar Forum
(Bloomberg) -- Former U.S. Secretary of State Hillary Clinton told the Qatar Economic Forum the pandemic has highlighted global inequalities, disproportionately impacting women and affecting education.
Earlier, Barclays Plc Chief Executive Jes Staley told the Forum that most of the bank's traders were back at their desks after more than a year of restrictions. Pacific Investment Management Co. CEO Emmanuel Roman said the rally in high-yield corporate bonds has largely "played out." Blackstone Group Inc. chief Stephen Schwarzman said Americans may face persistently higher inflation than they've been accustomed to, echoing others at the event.
Former Xerox Chief Says Diversity Drive Aided White Women (7:30 p.m. Doha)
The push to open up boardrooms and C-suite offices to diverse hires is largely focused on White women, who are making progress at a faster pace than other groups, former Xerox chairman and CEO Ursula Burns said.
"Race is a very distinct problem to gender," Burns said. "We haven't gotten there if all we do is make a whole bunch of white women CEOs and a whole bunch of white women board members."
Burns also called for greater transparency in corporate diversity stats-keeping, particularly in the tech and venture capital industries, sectors where Burns said "there is no counting, there is no measuring."
Clinton Urges Return to In-Person Learning (7:01 p.m. Doha)
The impact of the Covid-19 pandemic has disproportionately hurt women, and shortages of vital technology and internet access have hampered access to education during the pandemic, former U.S. Secretary of State Hillary Clinton told the Forum.
"We have also discovered the great digital divide in many countries, where the effort to try to sustain learning through virtual learning was less than successful," Clinton said.
While schools should take whatever steps necessary to make sure children return to in-person learning as soon as possible, they need to still keep appropriate hygiene measures in place, Clinton said. Children are not yet eligible to receive Covid-19 vaccinations in many parts of the world, and children over 12 years old have only recently become eligible in the U.S.
"I think that communities now understand how much more they need to support education," Clinton said.
Tanzanian Billionaire Sees Business Booming (5:43 p.m. Doha)
Private business in Tanzania is set to expand rapidly as President Samia Hassan moves to reassure investors and improve the nation's operating environment, according to Mohammed Dewji, the billionaire owner of conglomerate METL.
"I think our new president just wants to create a conducive environment so that we invest, we create jobs, and we pay taxes," Dewji said in an interview at the Forum. "Infrastructure projects are going to continue. But in the past the government was more involved in trying to do business.
Citic Capital Bets Decoupling With U.S. Will Boost China Tech (5:20 p.m. Doha)
The political tension that's driving a decoupling between Chinese and U.S. technology will be a boon for the Asian nation's companies in the sector, the head of state-backed private equity firm Citic Capital Holdings Ltd said.
Yichen Zhang, Citic Capital's chairman and chief executive officer, said the dispute is going to continue to escalate and is unlikely to ease any time soon.
"China will probably in a couple of years' time be the largest market in the world, so there's plenty of room to grow for tech companies," Zhang said. "At the same time, China is not shutting itself off. In fact, it's opening up more."
Covid Has Worsened Inequalities: Prudential Plc CEO (5:10 p.m. Doha)
The virus disproportionately hit the poor, ethnic minority communities, women, young and unskilled workers, with the impact felt worse in developing economies, Shriti Vadera, chair at U.K.-listed insurance giant Prudential Plc said.
An uneven global recovery from Covid will hold everyone back so a coordinated response by major economies "isn't alturisim, it is self-protection," she said.
Winters Warns of 'Financing Gap' in Developing Countries (5 p.m. Doha)
Businesses in poorer countries only have access to about a tenth of the funding they need to transition to net zero, according to Bill Winters, chief executive officer of Standard Chartered Plc.
"It's clearly a gap that governments, that the private sector, the public sector, multilaterals, export credit agencies: we're all going to have to work together to close that financing gap," he said. "There's a big opportunity there for a bank like Standard Chartered to help out."
On the same panel, BlackRock Inc. CEO Larry Fink said a high-profile vote that changed the board of Exxon Mobil Corp. signals changing attitudes on the environment -- but no single company can be responsible for addressing climate change. "If we really want to get to a net zero world, it has to be all of society working together," he said.
Majority of Traders Back at Desks: Barclays CEO (4:55 p.m. Doha)
Jes Staley said trading desks had returned to about 60% to 70% occupancy, but acknowledged that working patterns at the British bank are permanently changed by Covid-19. We "would be surprised if most people are in more than four days a week," even after restrictions are lifted, he said.
Barclays could start to roll back some of its other pandemic preparations soon, though. "Concerns around impairment will come down quite a bit," Staley said. The bank set aside 4.8 billion pounds ($6.7 billion) last year in loan provisions and "given what we see right now with the economy, that gives us a lot of cushion."
IMF Reserves Could Help Rebuild Emerging Debt Markets (4:25 p.m. Doha)
A record injection of International Monetary Fund resources this year could fund a facility to lower the costs for developing economies selling sovereign debt abroad, according to the head of the United Nations Economic Commission for Africa.
Uneca's Vera Songwe said she's proposed a facility to bolster the liquidity of the secondary market for emerging and frontier-market debt. That would aim to reduce the premium some issuers are charged by investors that can't immediately trade their bonds.
Pimco's Roman Says Bond Rally Largely 'Played Out' (4:10 p.m. Doha)
The rally in high-yield corporate bonds since the start of the Covid-19 pandemic has largely dried up, said Roman, who heads the $2.2 trillion asset manager.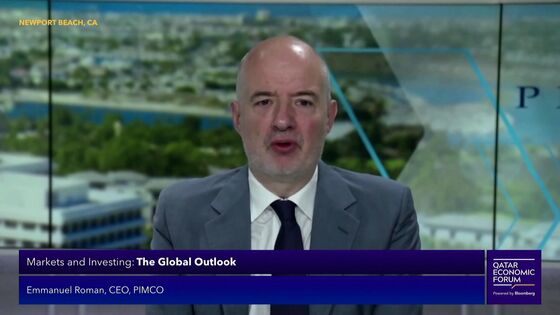 "In March 2020, you had real opportunity in high yield, and in private credit,"he said. "It's been very good, there were special situations," he added. "A lot of it has played out."
Weber Cautions on Inflation Risks (4:05 p.m. Doha)
The debate around inflationary risks from the extensive stimulus during the pandemic will complicate talks of a return to normalization, UBS Chairman Axel Weber said. Forecasts so far are not showing any downside risks for inflation in the next three to four quarters, but a nervousness is beginning to creep into the central banking community, he said.
The fear is that the return to a full-throttle economy, combined with bottlenecks, will lead to some inflationary readings that the world has not been used to for the last decade or so, Weber said. That may make some investors and consumers nervous, he added.
On the same panel, Qatar Central Bank Governor Sheikh Abdulla bin Saoud Al Thani said inflation isn't here to stay for the long term as some pressures might form from supply not meeting demand.
When asked about having a more flexible exchange rate, he said Qatar's currency peg to the U.S. dollar had mitigated risk. "I don't think we will change our regime at the moment." he said. "There is no need."
Schwarzman Says U.S. Economy 'On Fire' (4 p.m. Doha)
Blackstone's Schwarzman said the risk of an increase in U.S. capital gains taxes has led to explosive growth in potential targets for his alternative investment firm, as corporate owners look to cash in ahead of any legislative changes.
"It's really like an avalanche now of opportunities -- people want to sell things before their taxes are much higher for selling the same thing, potentially next year," Schwarzman said in an interview at the Forum. "It's giving us a lot of opportunities, and what we have to do is be careful, always have a very exciting plan for growth."
Higher corporate valuations are also a strong motivator for people to sell their businesses, Schwarzman said. "The U.S. economy is really on fire, almost everything is growing much faster than almost anyone anticipated." On wages, Schwarzman said stimulus programs have discouraged some from returning to work, meaning some inflation is likely to be "baked in at higher levels" than in the past decade.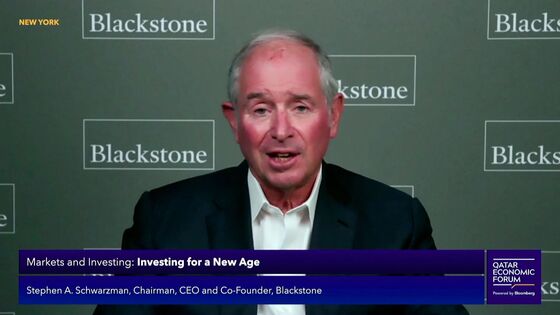 Qatar Wealth Fund Says Crypto Needs to Mature (4 p.m. Doha)
Extreme swings in Bitcoin and other tokens are hampering their appeal for institutional investors like Qatar Investment Authority. QIA is one of the world's largest sovereign wealth funds, with assets estimated at over $360 billion by Global SWF.
Cryptocurrencies "need a bit of maturity before we make our view about investing in that space," QIA Chief Executive Officer Mansoor Bin Ebrahim Al Mahmoud said.
Bitcoin has lost more than 50% from its mid-April high of almost $65,000. The coin started 2021 trading around $29,000 following a fourfold increase in 2020. It bounced back on Wednesday after earlier whipsawing investors with a dip below $30,000.
Travel Picks Up in China (11:35 a.m. Doha)
Search traffic shows strong pent-up demand from Chinese consumers to travel overseas, according to Trip.com Group Ltd Chief Executive Officer Jane Sun. She said domestic travel in China is rebounding well, with hotel and airline bookings during past holiday seasons growing as much as 70% compared with the same period in 2019.
On the same panel, Marriott International Inc. Chief Executive Officer Tony Capuano said he expects a new type of traveler to boost hotel performance in the early days of the travel recovery -– guests who combine business trips with family vacations.
Such guests add days to their stays, creating a new source of bookings for a global hospitality sector that was leveled by the Covid-19 pandemic. "We think that blending of trip purposes is great for the hotel industry," Capuano said.
Also on the panel, Portugal's Secretary of State for Tourism Rita Marques said she expects the country's tourism industry to grow this year by at least 20% compared to 2020.
Real Estate Titans Bet on Workers Returning (10:35 a.m. Doha)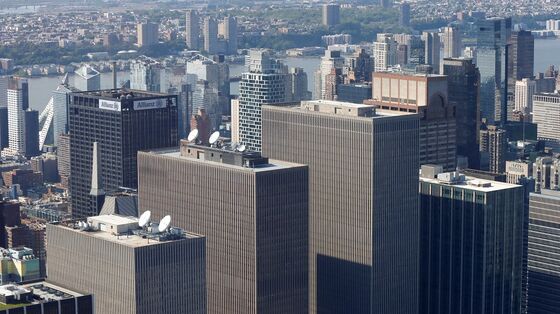 The pandemic has created a once-in-a-generation buying opportunity for investors willing to bet on the long-term prospects of workers returning to the hearts of global cities, Tishman's Rob Speyer and Brookfield Asset Management's Bruce Flatt said.
"There are extraordinary opportunistic things to buy in major cities around the world," Speyer said during a panel at the Qatar Economic Forum Wednesday. "We have been active during Covid in Paris, in Washington D.C., in San Francisco, in London and people are just selling off real estate at 25%, 30%, 40% discounts."
Even as others fret about the future demand for workspace, Tishman has spent about $12 billion since March last year on deals it expects "to be some of the best investments we have ever made," Speyer said. "If you have a long-term view of things reverting anywhere near where they were pre-Covid, these are generational buying opportunities."