Big Start to Year for U.S. Growth Seen Fizzling Later in 2019
(Bloomberg) -- Economists are skeptical that the unexpectedly fast U.S. growth from the first quarter will be sustained for the rest of the year, even as they boosted full-year forecasts to reflect the strong early performance.
The median estimate for 2019 growth increased to 2.6% from the prior month's projection of 2.4%, a May 3-8 Bloomberg News survey of 74 economists shows. The change mainly reflects the above-forecast 3.2% growth seen in the first quarter: The median projection for the April-June period fell to 2% from 2.6%, while forecasts for second-half expansion were little changed at about 2.1%.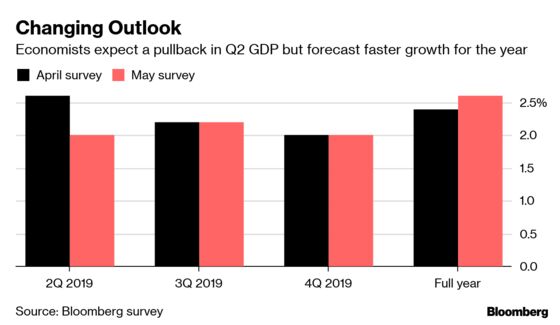 The results indicate most economists continue to expect gross domestic product in 2019 -- as well as in 2020 and 2021 -- to fall short of the White House's goal of a sustained 3% pace, following boasts by President Donald Trump that "we're knocking it out of the park."
Trump has called on the Federal Reserve to cut interest rates by a full percentage point to supercharge the economy amid muted inflation, while Fed Chairman Jerome Powell said last week that the central bank doesn't see a strong case for a move either way. Economists remain aligned with the Fed view that it will hold borrowing costs steady, even as investors continue to expect a cut eventually.
The drop in second-quarter forecasts reflects a larger drag from inventories and trade after the two categories significantly boosted GDP last quarter. Inventory accumulation contributed about 0.7 percentage point to GDP growth while net exports added a full point.
"Given the fact that consumer spending and investment spending were pretty weak in general in the first quarter, we assume that some of that big inventory build was unintentional," said Jay Bryson, global economist at Wells Fargo & Co. "We would expect that production would slow down a little bit as businesses try to get stocks back in line with where they want it."
At the same time, imports are likely to rebound, he said, which would weigh on the calculation of GDP growth.
What Bloomberg's Economists Say

"Inventory overhang, which built over the last several quarters, likely borrowed strength from 2Q GDP. We expect significant slowing in growth in the current quarter. Quarterly volatility aside, Bloomberg Economics forecast for the year remains at 2.4%."
-- Yelena Shulyatyeva and Carl Riccadonna, economists
Wells Fargo lowered its second-quarter forecast to 2.5% from 2.7%, while the average for the year moved up to 2.8% from 2.5%. Despite a few tweaks to quarterly numbers, "we have not rethought our view of growth for this year," he said.
Richard Moody, chief economist at Regions Financial Corp., cut his second quarter forecast to 1.8% from 2% in the April survey while raising his full-year forecast to 2.6% from 2.4%, with the longer term outlook boosted by the better-than-expected first quarter performance.
"Inventories and trade were both a little bit more positive than we had thought in Q1," Moody said. "The outlook for the economy hasn't changed, and we had the same pattern built into last month's forecasts -- it's just now that we have the Q1 GDP data."
The Commerce Department will release revised readings of first-quarter GDP on May 30 and June 27. It's scheduled to publish the second-quarter GDP report July 26.
The survey also showed forecasts for the Fed's preferred core-price gauge, which excludes food and energy, also edged down from the April survey.