Biden's Trade Nominee Chooses Senate Staffer for Top USTR Lawyer
(Bloomberg) -- Katherine Tai, Joe Biden's nominee for U.S. Trade Representative, has chosen a lawyer from the Senate committee responsible for trade to serve as her general counsel, according to people familiar with the decision.
Tai has tapped Greta Peisch, who spent the past six years as an international trade counsel on the Senate finance committee, according to the people, who asked not to be named because the pick hasn't yet been made public. Peisch worked for Oregon Senator Ron Wyden, the top Democrat on the committee.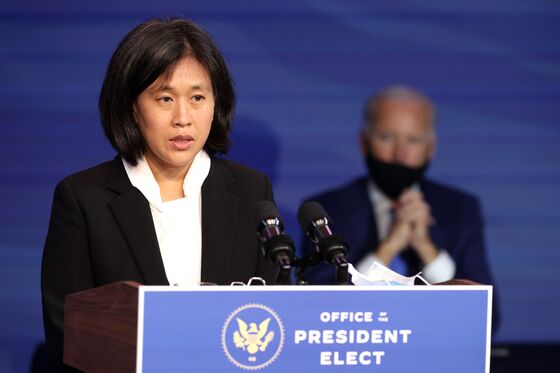 Peisch previously worked at USTR from 2011 to 2015, overlapping with Tai's time as chief counsel for China enforcement. Tai moved to the Ways and Means Committee responsible for trade in the House of Representatives in 2014, and Peisch moved to the Senate the following year.
Tai last month picked Nora Todd, a top Senate aide who helped craft key changes to the update of the North American Free Trade Agreement, as her chief of staff. Tai, Todd and Peisch worked together closely to strengthen labor and enforcement rules in the revised Nafta, called the U.S.-Mexico-Canada Agreement, to win Democratic support. The deal, originally negotiated by Donald Trump's administration, took effect in July.
The USTR's press office and Peisch didn't respond to emails seeking comment, while Wyden's office was unable to confirm the appointment.