Biden Begins Campaigning in Iowa, Which Rejected Him in 2008
(Bloomberg) -- Joe Biden's first swing through Iowa could provide an early answer to one of the biggest questions hanging over his bid for the Democratic presidential nomination: Whether his old-school style will sell to party activists who are both hungry for generational change and determined to beat President Donald Trump.
Biden, 76, failed to win Iowa in 2008, but this time he will have an unfamiliar advantage as the early front-runner in the state that starts the nomination voting.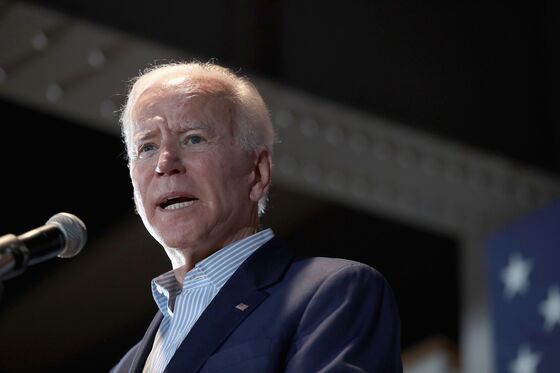 "You're going to see a whole heck of a lot of me," Biden said at his first stop in Cedar Rapids, Iowa's second-largest city. "Nobody is going to work harder in Iowa than Joe Biden."
Biden's other planned stops Tuesday and Wednesday are in Dubuque, Iowa City and Des Moines. They're among the state's largest cities, heavily Democratic and relatively easy places to build large crowds.
Biden made his first campaign speech Monday in Pennsylvania, a state that helped propel Trump to the White House. He portrayed himself as the only candidate who could defeat the president.
He reprised that theme in Cedar Rapids.
"Give eight years to this administration, in the White House, we're going to forever and fundamentally change the character of the country," Biden said.
"We can't afford four more years of this," he added. "We have to bring people back together again."
He has also made a play for supporters of his closest rival for the nomination, Vermont Senator Bernie Sanders, by calling for a $15-an-hour minimum wage, letting people buy into a public Medicare option for health insurance, ending the carried-interest tax break that helps investment fund managers and repealing "Trump's tax cut for the very wealthy and corporations."
In a sign of how Biden's candidacy has shifted the race, Sanders made a direct attack on his rival, hitting hot-button issues for the blue-collar voters that are centerpieces of Biden's campaign.
"When people take a look at my record versus Vice President Biden's record, I helped lead the fight against Nafta; he voted for Nafta," Sanders said on CNN's "AC360" on Monday. The Vermont senator said he fought against giving permanent normal trade relations to China and against the Trans-Pacific Partnership trade agreement, both of which Biden backed. Sanders also noted that he parted ways with his rival by voting against the 2003 war in Iraq.
Biden declined to engage Sanders and called himself "a fair trader."
"I'm not going to get into a debate with my colleagues here," Biden said when asked about Sanders' remarks. "There's plenty of time on the stage. And I'm proud of my record."
Even though he leads for now, Iowa hasn't traditionally been favorable territory for Biden. His first stop is in Linn County, which gave him just 0.5 percent of the vote in 2008. That year, he barely did any better in the statewide caucuses, garnering less than 1 percent, a performance that contributed to his decision to get out early in the nomination race. Biden also ran for the 1988 Democratic nomination but dropped out before the Iowa caucuses.
Still, his time on the 2008 campaign trail wasn't wasted; it helped him become Barack Obama's running mate. Now, Biden is leveraging praise from the former president, making the case that he's best positioned to continue Obama's legacy and defeat the incumbent because of his appeal to the sort of working-class voters who helped elect Trump.
Iowa Republicans seized on this legacy to attack Biden.
"Failed policies, loss of jobs, open borders -- Iowans can't afford another Obama presidency, and that's just what Joe Biden would be," Iowa Republican Party Chairman Jeff Kaufmann said in a statement.
Riding a generally error-free campaign roll-out since he announced on Thursday, Biden has moved into an even greater lead in a Democratic field crowded with 20 candidates, three polls released Tuesday show.
A CNN survey found 39 percent of voters who are Democrats or Democratic-leaning independents say he's their top choice for the nomination, putting him 20 points ahead of Sanders.
Biden more than doubled his advantage over Sanders, from 6 to 14 points, among likely Democratic primary voters according to a Morning Consult poll. And among likely New Hampshire Democratic primary voters, a Suffolk University/Boston Globe showed Biden leading with support from 20 percent, followed by Sanders at 12 percent.
A fourth poll, by Quinnipiac University, showed Biden surging among Democrats, with 38 percent of the vote, while Sanders slipped to 11 percent, slightly behind Senator Elizabeth Warren of Massachusetts, with 12 percent.
Biden's proposals hew more to the political center than some of the other Democrats running for president, such as Sanders and Warren. That could make make him more palatable to independent voters in the general election against Trump.
Several voters at Biden's event in Cedar Rapids said they were seriously considering him as their top pick in the caucuses but hadn't made a decision.
"He is absolutely anti-Trump, has common sense and is a great diplomat who has compassion," said Ken Snyder, 67, a retired University of Iowa employee who lives in Palo, Iowa.
Megan Middaugh, 33, a social worker from Cedar Rapids who caucused for Sanders in 2016, said she's also looking at Biden for 2020. "I think they both could beat Trump," she said.