Beijing Tightens Entry Ahead of Major Chinese Political Meetings
Beijing has stepped up requirements for entering the city ahead of a meeting in March that will be China's largest political gathering of the year.
Travelers from medium- and high-risk areas for the coronavirus are in principle barred from entry while those traveling from low-risk regions need to provide a negative Covid-19 test result taken within seven days of entry, China Central Television reported on Wednesday, citing a local government briefing. The requirements were set to take effect Thursday and last to March 15, according to the state broadcaster.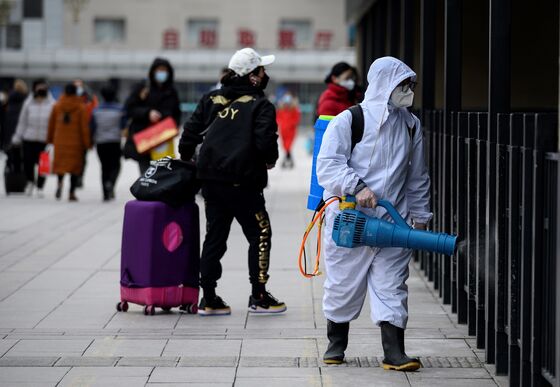 Those entering from low-risk regions will need to undergo 14 days of health monitoring once they enter the city, including tests at the seven-day and 14-day mark, it said. The inbound travelers are permitted to go out and work, but cannot participate in gatherings, join group meals, and are asked to report their health status to the local community or their workplace.
The new rules overlap with annual meetings of China's top legislature and political advisers set to convene from March 4, which this year is charged with approving the country's five-year economic plan. The meeting was postponed last year for the first time in decades due to the coronavirus outbreak. When it convened in May, Beijing used the occasion to mark China's triumph in containing the virus.
Safeguarding the security and health of the thousands of political delegates and business leaders who descend on the capital for the National People's Congress and the Chinese People's Political Consultative Conference is a paramount priority for government. Over the years, Beijing residents have become accustomed to sudden upticks in rules and regulations around the time of major political events.
The city government said the measures aim to contain virus risks in the city during Chinese New Year, a peak travel season as millions of workers return to their hometowns to celebrate the holiday, according to CCTV.