Why Barra Listening to Trump Would Spell Disaster for GM
GM's global sales trends show why this would be a lousy idea.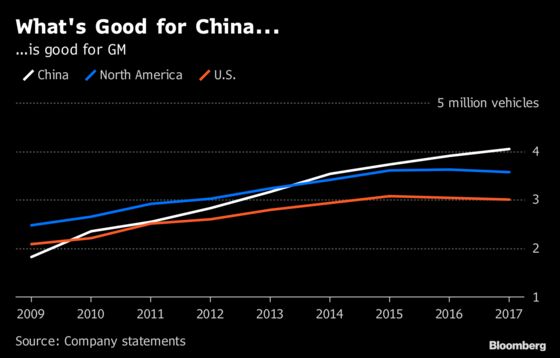 GM has been selling more cars in China than in all of North America since 2014. Chinese consumers first bought more Chevrolets, Buicks and other GM vehicles than Americans did five years earlier. The gap widened to more than 1 million units in 2017.
GM's chief executive officer is far from alone in wanting to build vehicles close to where they're sold to reduce logistical costs. Labor also is cheaper in China. And shutting down production there -- a suggestion Trump told the Wall Street Journal he made to Barra -- would be especially ill-advised given the 40 percent tariffs Beijing has slapped on U.S.-built cars. China raised the levies in July as part of a broader retaliation against Trump.