Banks Win Break on Trading-Desk Capital as Basel Tones Down Rule
(Bloomberg) -- Big investment banks scored a victory in their campaign to soften global rules, as regulators reduced the capital hit from new trading-book standards by nearly half.
The Basel Committee on Banking Supervision said its final market-risk standards will drive up banks' trading-book capital requirements by a weighted average of about 22 percent from current levels. That's down from the estimate of a 40 percent increase when the package of rules was first rolled out in 2016.
The Basel Committee's new standards, scheduled to take effect in 2022, should primarily affect banks with large trading operations, such as JPMorgan Chase & Co. and Barclays Plc.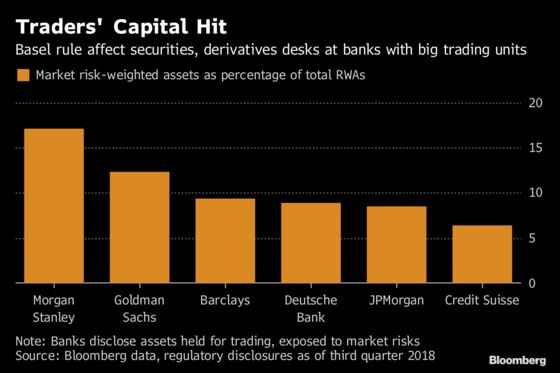 The standards published on Monday will make it easier for banks to rely on their own statistical models to assess the risk of trading-book assets -- part of setting capital requirements -- instead of having to use regulator-set formulas that often lead to higher capital demands.
Banks lobbied regulators for years to soften the rules, arguing that they could lead to billions of dollars in additional risk-weighted assets and hamper their ability to lend.
Basel Committee standards aren't legally binding. To take effect, they must be implemented and enforced by member countries' authorities, such as the U.S. Federal Reserve, the European Central Bank and Japan's Financial Services Agency.