Bank of Thailand's Hawkish Tilt Adds Another Tailwind for Baht
(Bloomberg) -- The Bank of Thailand is giving the baht -- the most-loved emerging-market currency this month -- one more reason to keep up its outperformance.
Piggybacking on a strong current-account surplus, the baht has braved developing-market doldrums and topped returns among 24 currencies tracked by Bloomberg. It is also the sole gainer in Asia this quarter. As investors await the Aug. 31 release of Thailand's latest balance of payments data, a recent hawkish tilt by the central bank is adding to the currency's allure.
There is less need now for an extremely accommodative stance since the recovery in the economy is clearer, Governor Veerathai Santiprabhob said Aug. 20, adding that it can't go against the global trends in interest-rate policy. The baht's stability and benign inflation have enabled Thailand to hold interest rates at a near record-low of 1.5 percent even as countries including Indonesia, India and the Philippines have tightened.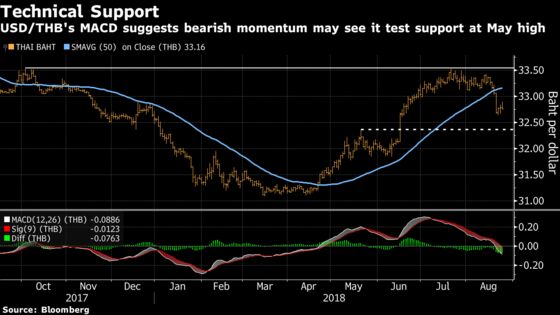 Veerathai's comments have already prompted Nomura Holdings Inc. to forecast a 25-basis points rate hike at the Sept. 19 meeting. Minutes of the BOT's latest gathering showed officials discussed "conditions and appropriate timing to begin normalizing monetary policy in the future."
Technical analysis also points to potential gains for the currency, as the dollar-baht's failure to breach a key resistance around 33.50 has seen the pair resume its downtrend.
Dollar-baht below its 50-day moving average on Monday, and may look to test support around 32.363 -- its high from May 21, given the growing bearish momentum. The pair's moving-average convergence-divergence has declined below zero, having already fallen below its signal line. A breach of the May high may see it head toward support around 32.00 in the medium term.
At 32.76 to a dollar on Friday, the currency has climbed 1.6 percent this month, after data July 31 showed a higher-than-estimated current-account surplus of $4.08 billion for June.
The baht is holding up well while investors get increasingly picky about emerging markets amid a savage sell-off spurred by higher U.S. interest rates, trade tensions and a turmoil in Turkey. At more than 10 percent, Thailand has the second-highest current-account balance as a percentage of gross domestic product among developing markets in Asia. Only Taiwan has a better buffer.
While the Taiwan dollar has been hit by foreign outflows from equities and the China-U.S. trade war, Deutsche Bank AG says the baht offers the best value in emerging Asia. Thailand has also seen net foreign inflows of $4.4 billion into its bond markets, higher than peers in Southeast Asia.
The baht is up 1.1 percent this quarter. It is also the only currency showing a gain for August among 24 developing-market exchange rates. That's no mean feat given that the MSCI Emerging Markets Currency Index has dropped about 2 percent this month.
Below are key Asian economic data and events due next week:
Monday, Aug. 27: China July industrial profits
Tuesday, Aug. 28: South Korea Aug. consumer confidence
Wednesday, Aug. 29: Japan Aug. consumer confidence index
Thursday, Aug. 30: Aussie 2Q private capital expenditure and July building approvals, New Zealand July building permits and Aug. ANZ business confidence, Japan July retail sales, South Korea business survey manufacturing/non-manufacturing
Friday, Aug. 31: Thailand July BOP current-account balance, New Zealand Aug. ANZ consumer confidence, Tokyo Aug. CPI, Japan July industrial production (P) and jobless rate, China PMI manufacturing/non-manufacturing, India 2Q GDP and July fiscal deficit, Bank of Korea rate decision and South Korea July industrial production