Bank of Spain Doubles Inflation Forecast But Says It Won't Last
The Bank of Spain more than doubled its forecast for inflation next year but still sees it easing sharply after that to well below the 2% goal for the euro zone. 
The central bank on Friday raised its outlook for annual price increases to 3.7% in 2022 and then slightly reduced the projection for the following year to 1.2%. Inflation will ease gradually as soaring electricity costs and supply disruptions fade, the forecasts show.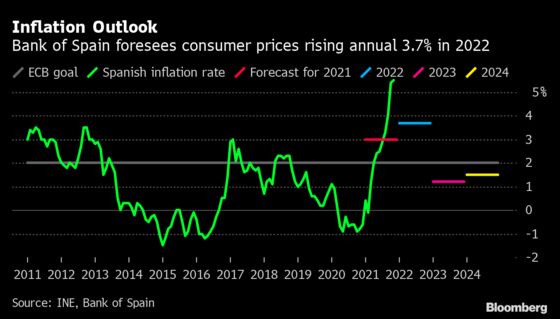 "We are currently at peak inflation," Bank of Spain Chief Economist Oscar Arce told reporters in Madrid. "Starting next spring, if energy prices ease, as is implicit in futures markets, we should see a marked drop in the inflation rate."  
Arce, who will become a senior ECB official early next year, added that prices in Spain are more sensitive to power costs than most of its peers in the area.
An inflation surge that has reached 30-year highs in Spain and comparable once-in-a-generation levels around the euro region is testing the European Central Bank, which insists the effects won't endure. While policy makers are halting pandemic stimulus, their forecasts released on Thursday also show price increases will slow below their goal.  
Once the potential leader of Europe's post-pandemic revival, Spain's recovery has disappointed with the hit to global tourism, even though some economists point to underlying strength suggested by indicators other than official data. 
The Bank of Spain trimmed its forecast for gross domestic product this year to 4.5% from 6.3%, blaming quickening inflation and supply snags. While expansion will accelerate to 5.4% in 2022, officials put back their estimate of when pre-pandemic growth levels will be reached, now reckoning that will happen early in the following year.
The latest Covid-19 wave gripping Europe, which slowed activity in the fourth quarter, is a reminder of the risks to growth, the central bank warned.