Bank of Russia Considers Rate Increase of Up to 1 Percentage Point
The Bank of Russia is ready to consider a key interest rate increase of 25 basis points to 1 percentage point in July in response to surging inflation, Governor Elvira Nabiullina told Bloomberg TV in an interview.
"We don't see that inflation acceleration is transitory as in many other countries, but more persistent," Nabiullina said Monday. The central bank aims to react fast, but predictably on rates, she said, adding that current policy remains accommodative.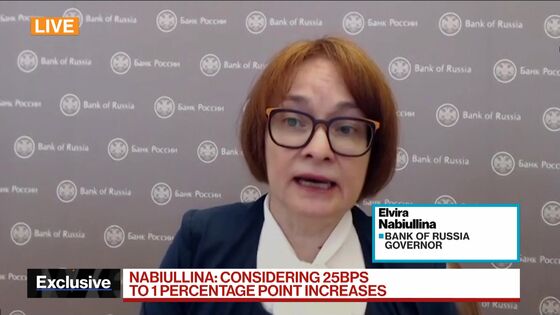 Russia's central bank has turned hawkish as it struggles to control inflation that recently jumped above 6% for the first time in more than four years, well beyond the 4% target. Policy makers have increased interest rates by 125 basis points since March and warned that more monetary tightening will be necessary to curb price pressures and restrain inflation expectations.
Still, the pace of increases in Russia lags that of its emerging-market peer Brazil, where policy makers have been lifting their key rate by 75 basis points at a time.
"So far inflation data do not show that it's easing," Nabiullina said. "There is no trend for inflation acceleration now, but no significant trend for its slowing either."
She emphasized that monetary policy should be the "main tool" for fighting inflation, after the government responded to a spike in global commodity prices by imposing duties, export curbs and price controls. The central bank will revise up its end-year inflation forecast and, most likely, its average key rate forecast at the July 23 meeting, she said.
Russia's recent spike in Covid-19 cases and introduction of new restrictions to contain the spread of infections may affect the economy, the governor said. "It's one of the factors of uncertainty that could influence our estimates," she said.
The ruble initially strengthened after Nabiullina's rates comments before declining by 0.2% against the dollar to 72.2150 as of 3.46 p.m. in Moscow, trading within a narrow range.
"We are ready to take steps that would let inflation return to 4%," Nabiullina said. "We want to do it in a predictable way and with the least amount of surprises for the market."