Bank of Russia Keeps Market Guessing After $16 Billion Inflow
The Bank of Russia is leaving investors guessing about its plans for its last rate-setting meeting of 2019 -- a decision that could decide the fate of a rally that's drawn $16 billion into local bonds this year.
Most economists polled by Bloomberg are betting on a quarter-point cut to 6.25% on Friday, given that inflation has fallen faster than expected. But a few think a deeper reduction is likely, and others are convinced there will be no change to the key rate. While the central bank usually tries to drop clear hints of its intentions, all the head of its monetary policy department, Alexey Zabotkin, would say last week was that it is still weighing the necessity for more easing.
"This is the first time in the past two years that I'm completely unsure about the result of the rates meeting," said Kirill Tremasov, a former Economy Ministry official who's now an investment director at Loko-Invest in Moscow. "I don't even think the central bank is sure what it will do."
More Than a Dozen Central Banks Set to Meet This Week: Map
After two surprise rate hikes late last year, the central bank has eased more than expected in 2019, triggering one of the biggest bond rallies in the world. Any sign that policy makers are now turning more hawkish could spook investors, who currently have about $45 billion of Russian OFZ bonds.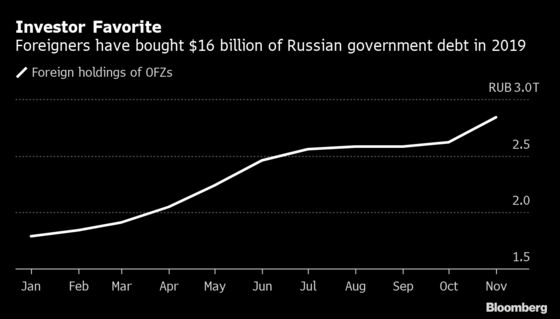 Research by JPMorgan Chase & Co. conducted last year found that it's almost twice as difficult to forecast a rate decision in Russia as in other high-yielding emerging markets.
Annual inflation slowed for an eighth straight month to 3.5% in November despite four consecutive rate cuts, including a rare half-percentage point reduction at the last meeting. The central bank, which targets price growth of 4%, is underestimating the potential for inflation to keep dropping dramatically, analysts at Goldman Sachs Group Inc. said earlier this month.
What Our Economists Say...

"The easing cycle is probably near an end, and we expect policy makers to signal this with cautious guidance about the path ahead."

--Scott Johnson, economist, Bloomberg Economics
Spending on a six-year government infrastructure program was meant to get underway this half, potentially pushing inflation higher. But bureaucrats have been especially cautious about releasing funds amid a recent Kremlin push to keep tabs on where money goes. Bank of Russia Governor Elvira Nabiullina has said that the central bank might have cut rates more aggressively this year if it had known that spending was going to be so delayed.
RUSSIA PREVIEW: Road Ends Ahead -- Rate Cut, But Note of Caution
In a Bloomberg survey of 33 economists, only Goldman and two others expect a half-point cut on Friday. Twenty six are forecasting a smaller reduction and four see no change. Nabiullina will get a chance to explain her reasoning at a press conference after the decision.
"Gradual" interest rate cuts of 25 basis points are the central bank's preferred option in its base case scenario, Zabotkin said in an interview with RIA Novosti on Dec. 5. Those analysts who are forecasting no change say the lack of clear signal from the central bank implies that it will chose to wait and see after its big rate cut in October.
"While the outcome of the meeting is a close call, with weighty arguments for both front-loaded easing and caution, a decision to keep the key rate unchanged is marginally more likely," analysts at VTB Capital in Moscow led by Alex Isakov wrote in a research note this week.