Russia Pauses Rate Hikes But Warns Further Tightening Possible
(Bloomberg) -- Russia's central bank kept borrowing costs unchanged, pausing after a surprise hike last month but warning that inflation risks may prompt more tightening.
"Pro-inflationary risks remain elevated, especially over a short-term horizon," it said in a statement on Friday. "The Bank of Russia will consider the necessity of further increases in the key rate, taking into account inflation and economic dynamics against the forecast, as well as risks posed by external conditions and the reaction of financial markets."
The key interest rate will stay at 7.5 percent, according to the statement. The decision was forecast by 39 of 41 economists surveyed by Bloomberg, with the rest predicting an increase to 7.75 percent.
A tide of monetary tightening across emerging markets has slowed this month as policy makers from Indonesia to Turkey took advantage of the respite in volatility. Governor Elvira Nabiullina is following suit after shocking the market in September with Russia's first rate increase since 2014 to restrain inflationary risks stemming both from domestic policy and fear of further U.S. sanctions.
"The window for the next hike in December 2018 remains wide open," said Vladimir Miklashevsky, a strategist at Danske Bank A/S in Helsinki. The decision "will depend purely on external factors."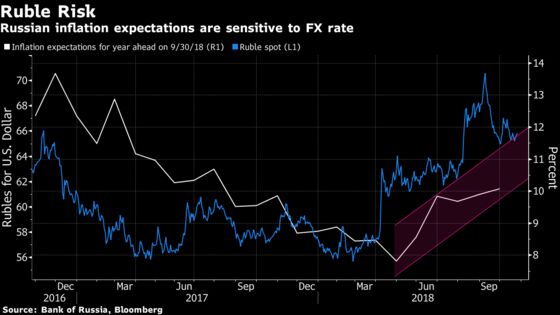 The ruble kept declines after the rate announcement, trading 0.4 percent weaker at 65.8375 per dollar in Moscow. The yield on Russia's 10-year local-currency bonds rose one basis point as the notes retreated for a fourth day.
The tightening in September, together with the decision to extend a pause in buying foreign currency until the end of the year, helped the ruble to recoup some losses. The Russian currency has strengthened more than 3 percent against the dollar since the meeting on Sept. 14.
What Our Economists Say...
"The Bank of Russia is in no hurry to tighten but another rate hike remains a possibility. Whether that comes in December depends mostly on whether fresh U.S. sanctions materialize to rattle the ruble."

--Scott Johnson, Bloomberg Economics

For more, see his RUSSIA REACT
Annual consumer-price growth accelerated to 3.4 percent last month, in line with the Bank of Russia's estimates, according to First Deputy Governor Ksenia Yudaeva.
Policy makers say inflation may exceed their target of 4 percent already by the end of this year due to a value-added tax increase and currency weakness earlier this year. It will reach 5 percent to 5.5 percent in 2019 and return to 4 percent in 2020, according to the statement on Friday.
The ruble's depreciation has already fueled inflation expectations, which the central bank watches closely in its rate decisions, to 10.1 percent in September, the highest level since July 2017.
Another risk for inflation comes from the U.S. midterm elections next month. A Democratic win could help drive tougher sanctions against Russia, possibly targeting its new sovereign debt and imposing restrictions on its major lenders.
"Key worries were (and still are) the external risks and financial markets' response on top of the local stories of a weaker ruble and the VAT rate hike in 2019," said Dmitry Polevoy, chief economist at the Russian Direct Investment Fund.