South Korea's Economy Is Alive But Not Well
(Bloomberg Opinion) -- Send out a search party for South Korea's economy.
Domestic activity is in a tough spot, but the Bank of Korea seems preoccupied with second-guessing the Federal Reserve and parsing any trade accord between the U.S. and China.
The central bank kept its benchmark interest rate at 1.75 percent Thursday, a non-step that was widely forecast. The flaw is that reasons advanced by economists for stasis are arguments in favor of cutting: weakness in inflation, faltering exports and a distinct lack of vim in the labor market.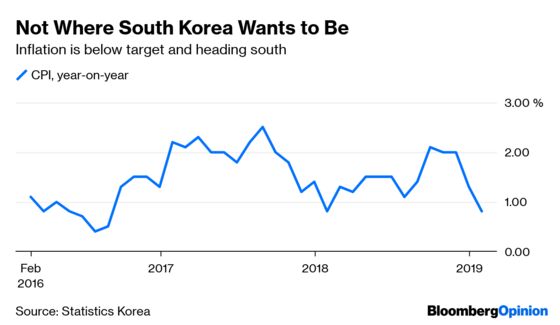 The first paragraph of the Bank of Korea's statement is all about the Fed, U.S.-China trade and Brexit, each of which is cited by name. That's revealing because often in major economies these phenomena, while shaping officials' thinking, are rarely called out explicitly.
There's simply no way Federal Open Market Committee statements would launch right away into offshore events or institutions. The Fed would be crucified in Congress. Best, lower down, to use euphemisms like "global economic and financial developments." Save the naming for verbal follow-ups.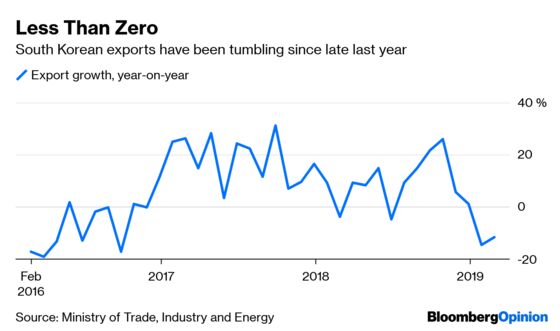 That's fine for the Fed, one might argue. It's the big guy. And Seoul is right to focus on how the international becomes local. No country is an island. But if the effects of the trade war and China's slowdown ricochet in your backyard, then you should act to ameliorate the impact. Rather than citing global events to do nothing, why not leverage this opportunity to do something?
Life at home could use a jolt. Inflation was just 0.8 percent last month, well below the BOK's 2 percent target. Officials reckon it will stay below 1 percent for some time. (The Bank of Japan gets browbeaten for this type of miss.) While unemployment isn't a disaster at 4.4 percent, it's the highest in almost a decade. Exports have been hammered in light of China's travails and a drop in semiconductor prices.
The Bank of Korea says policy is accommodative. That's not to say there isn't room to trim. At the very least it could send a message that local authorities are on the case, even if bigger players abroad have a lot of pull. The bank alluded to that possibility, saying it will assess whether to "adjust" its stance. Then again, it said the same thing last month:
"As it is forecast that inflationary pressures on the demand side will not be high for the time being, and that the domestic economy will sustain a rate of growth that does not diverge significantly from its potential level, the Board will maintain its accommodative monetary policy stance. In this process it will judge whether to adjust the degree of monetary policy accommodation further, while closely checking future economic growth and inflation trends."
There was an adjustment in November that looks like an aberration, as I've written. In the teeth of a global slowdown, the Bank of Korea raised rates. Time will tell whether it was a mistake. A better use of that paragraph would be to start explaining the case for a cut. There's no reason to have a bias toward anything other than domestic relief.
South Korea has a significant economy. Treat it as such.
This column does not necessarily reflect the opinion of the editorial board or Bloomberg LP and its owners.
Daniel Moss is a Bloomberg Opinion columnist covering Asian economies. Previously he was executive editor of Bloomberg News for global economics, and has led teams in Asia, Europe and North America.