Bank of Korea Slashes Rate in Emergency Move After Fed Cut
The Bank of Korea slashed its benchmark interest rate to a record low of 0.75% in an emergency move following actions by the Federal Reserve and other central banks to combat economic damage from the coronavirus outbreak.
The BOK convened its first emergency board meeting since the global financial crisis on Monday and cut the seven-day repurchase rate by 50 basis points, effective March 17. One member called for a smaller rate cut of 25 basis points.
Concerns of a global recession have been rattling financial markets as the outbreak turns into a global pandemic, forcing consumers to stay home and sharply curtailing business activity. The Federal Reserve cut interest rates by a further full-percentage point on Sunday, which opened up room for central banks like the BOK to ease by mitigating concerns of a sharp capital outflow.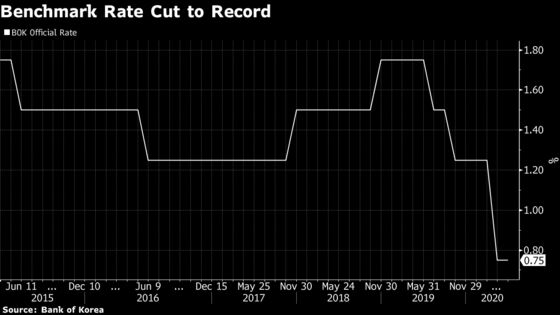 "We face a situation where the impact on the real economy will be bigger and longer-lasting as the virus develops into a global pandemic," Governor Lee Ju-yeol said in a post-decision briefing, adding that growth this year will be lower than the earlier 2.1% projection. "The BOK is ready to respond with all available tools if needed to various changes in economic conditions."
In a statement after the decision, the BOK said concerns over a global economic slowdown have deepened since the February board meeting, and that monetary policy will be kept accommodative as uncertainties are high. The central bank also said it will lower interest rates applied to its loan facility for smaller companies, and add bonds issued by banks to its open market operations to enhance liquidity.
The global coronavirus spread has been smothering signs of green shoots across the South Korean economy that relies on exports for growth. Early data show retail sales and tourism have taken a hit in particular, while shrinking trade underscores wider supply chain disruptions. Economists expect South Korea's growth to hit post-financial crisis lows this year, with Goldman Sachs seeing only 1% expansion.
The BOK has been facing criticism for failing to act in February, when it held rates and opted to raise the cap of inexpensive loans to businesses. Yet, Governor Lee defended the board's decision on Monday, saying cutting rates now is a better timing to maximize policy impact.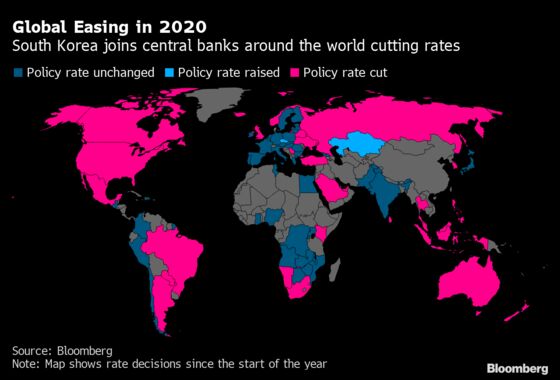 Now central bank watchers' focus will turn to the BOK's next steps -- whether it can take rates lower, or whether the time has arrived for South Korea to resort to unconventional policies should economic conditions worsen.
"The BOK's monetary policy easing decision leaves limited scope for further conventional monetary policy," Rajiv Biswas, Asia Pacific Chief Economist at IHS Markit, said in a note. "The BOK may soon join the ranks of Asia Pacific central banks that are being forced to consider utilizing unconventional monetary policy tools."
Lee fell short of pledging further action on Monday, while acknowledging that the Fed's easing has reduced the BOK's lower bound on rates. Purchasing bonds if yields spike is a policy "card" the BOK can deploy any time, Lee said.
South Korea's government is worried about long-lasting damage from the virus outbreak, and is seeking a swift parliament approval for the 11.7 trillion won ($9.5 billion) extra budget.
The BOK's next scheduled board meeting on April 9 will proceed as planned, Lee said. The rate decision would be the last before terms for four of the seven board members end later that month, further complicating policy forecast. The dissenter on Monday -- Lim Ji-won -- will remain on the board, along with the governor and the senior deputy governor.