Bank of Korea Raises Benchmark Rate for First Time in a Year
(Bloomberg) -- The Bank of Korea raised its key interest rate for the first time in a year, choosing to prioritize heading off financial imbalances despite an uncertain economic outlook.
The decision on Friday to increase the seven-day repurchase rate to 1.75 percent from 1.5 percent was forecast by 14 of 18 economists surveyed by Bloomberg. The remaining four had predicted no change.
The BOK joins central banks in Indonesia and the Philippines in raising rates in recent weeks as the Federal Reserve's rate-hike cycle weighs on Asian currencies and draws capital away from the region. Yet any additional increases by the BOK are far from certain and could be a long time coming, with some economists saying its next move may even be a rate cut.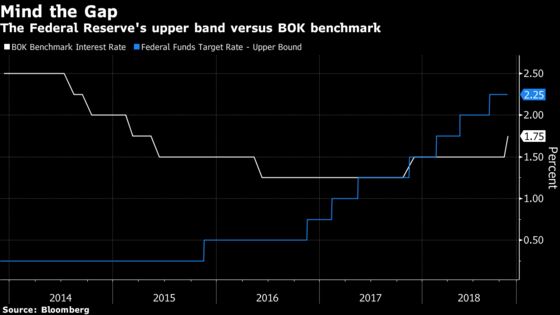 BOK Governor Lee Ju-yeol said the rate increase was expected to ease financial imbalances such as a widening gap between Korean and U.S. rates and record household debt.
"The BOK concluded there is a need to raise the benchmark rate due to the possibility that risks to financial stability could rise should the central bank continue to leave rates on hold," Lee said during a press briefing.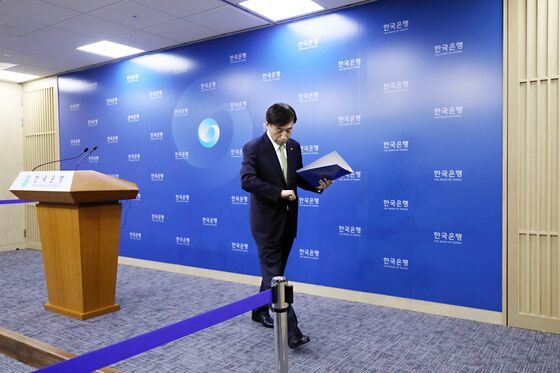 Lee said two board members voted against the rate increase, underscoring a high level of uncertainty in the economic outlook. But monetary policy remains accommodative and the economy is expected to continue to grow in line with its potential rate, while inflation is expected to remain in a mid- to upper 1 percent range, he said.
Since raising the rate from a record low 1.25 percent in November last year, Lee has repeatedly said policy accommodation would need to be reduced further. Yet constrained economic growth and subdued inflation -- and more recently, an escalating U.S.-China trade war -- gave policy makers plenty of cause to wait.
More recently, Lee expressed concern that the widening spread between Korean and U.S. interest rates could trigger capital outflows from Korea and stoke additional volatility in Asian financial markets. On Friday, he said the rate gap was a burden but capital outflows remain stable, and were expected to stay that way given the economic fundamentals.
South Korea's won rebounded a bit from earlier losses of as much as 0.3 percent against the dollar, trading at 1,119.65 per dollar as of 12:47 p.m local time, following Lee's press conference. The 10-year bond yield was little changed at 2.12 percent.
Friday's rate hike may be the last for a long while. Most economists forecast rates to still be at 1.75 percent in the third quarter of next year, given growth and inflation rates. It would ease pressure on the BOK if the Fed adopts a less hawkish path.
What Our Economist Says...
"Our view is that risks to growth and muted inflation mean the central bank is now set for a long pause. The direction of its next move could be up or down -- depending on how strong headwinds to growth become in the year ahead. Two things in particular could shift the calculus: any changes in the pace of future Federal Reserve rate hikes, and any shifts in U.S.-China trade relations."

-- Justin Jimenez, Bloomberg Economics

For more, see our Korea Insight
"The two votes against the decision is a good signal that it will get increasingly tough for the BOK to move rates higher from here, given the slowing economy, weaker inflation, and declining household debt growth," said Cho Young-moo, an economist at LG Economic Research Institute.
The economy is likely to grow 2.5 percent in 2019, Cho said.