Bank of Korea on Hold as Lee Turns More Optimistic
Bank of Korea Governor Lee Ju-yeol took a more upbeat view of the economy on Friday in comments that suggest he is comfortable keeping policy on hold for the time being despite calls on his policy board for rate cuts.
The central bank left its seven-day repurchase rate unchanged at 1.25% in its first policy decision of the year, an outcome forecast by all but one of 22 analysts surveyed by Bloomberg.
In line with a growing view that the world economy is over the worst of slowdown, Lee said he saw more pluses than minuses for Korea, adding that 2020 growth would largely be in line with the bank's 2.3% projection in November. That suggests a series of downgrades to BOK economic forecasts is nearing an end for now as the bank monitors green shoots of improvement overseas and at home.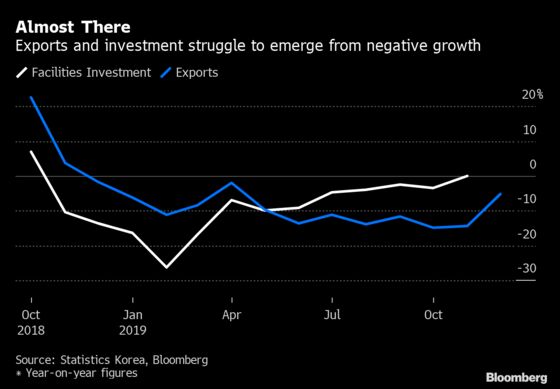 Still, two board members dissented and called for a lower rate on Friday. That opposition would normally point to a rate cut in the coming meetings, but with the two dissenters finishing their terms in April, some economists see a holding pattern in the first half of the year as the more likely policy trajectory.
The two dissenters are among a group of four board members whose terms expire this spring. The central bank has tended to keep policy unchanged in the months preceding and following a board shakeup.
Kong Dong-rak, a fixed income strategist at Daishin Securities, said the two dissenters would probably turn less dovish toward April to clear the way for their replacements. "It's not at all certain that the BOK's accommodative stance is going to remain as solid," Kong said, indicating that dovish views on the board may diminish after April.
Bond prices rose after the news of the dissenters, suggesting market expectations for a rate cut will continue, though prices were largely in line with levels before the decision.
After a flurry of rate cuts last year, global central banks including the Federal Reserve are now pausing to give stimulus a chance to feed through the economy and as trade tensions subside. South Korea's economy is expected to perform better this year than in 2019 and the government is determined to restore growth momentum through what it calls the most expansionary spending possible.
"The U.S. and China have made progress on the phase-one trade deal and a recovery in the semiconductor industry is expected, which makes us forecast a better year for the economy in 2020," Lee said at a post-decision media conference.
He added that while low interest rates have had some effect on housing prices, the market is affected by numerous factors. The central bank flagged "high" housing price gains in some parts of the country in a statement, a factor that could also signal reluctance to take rates any lower.
There are nascent signs that South Korea's trade-dependent economy, which probably grew at the slowest pace in a decade last year, may be turning a corner. Semiconductor exports, the country's biggest source of income, rose in the first 10 days of January for the first time in more than a year. The economy also added the most jobs in about five years in December.
Still, headwinds remain. South Korea's trade spat with Japan has yet to be fully resolved and U.S.-China trade tension could flare up at any time. Inflation remains well below the BOK target rate of 2%.
"The BOK will probably stay pat at least for the first quarter as it watches its two cuts last year feeding through," said Stephen Lee, an economist Meritz Securities in Seoul. "Should growth fall short of expectations, though, arguments for another rate cut would start gaining momentum in the next quarter."
What Bloomberg's Economist Says

"Stabilizing exports and investment, paired with supportive fiscal policy, point to a gradual recovery in growth in the year ahead. That would reduce pressure on the central bank to lower rates further after its 50 bps of reductions in 2019. Still-subdued inflation remains a challenge for the BOK."

--Justin Jimenez, economist

Click here to read more.