Bank of Italy Warns of Risk in Low Growth, High Public Debt
(Bloomberg) -- Italy's central bank warned that low growth and high public debt pose the greatest risks to financial stability, while further sovereign bond market tensions would hurt banks' capital and the solvency position of insurers.
In its Financial Stability Report published Friday, the Bank of Italy outlines risks arising from uncertainty about the economic and fiscal policy in the country, which led to higher bond yields and tighter liquidity conditions for government securities.
Italy will be paying more than 5 billion euros ($5.7 billion) in extra interest on its public debt in 2019 if the higher yields "remain consistent with current market expectations," the Bank of Italy said. That number would jump to about 9 billion euros in 2020.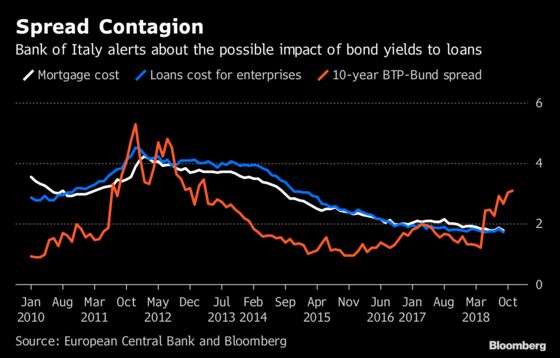 The evolution in the banking system's profitability is linked to the economic growth outlook for Italy and the continuing improvement in credit quality. The persistence of tensions in government securities prices could hamper the recovery in profitability by increasing funding costs, the central bank said in the report.
Any further declines in the value of government securities would affect the capital of smaller banks and could have significant effects on the solvency position of insurers, especially exposed to the sovereign risk.

Despite market tensions, banking sector credit quality and profitability has continued to improve in 2018, with the stock of non-performing loans down to 225 billion euros at the end of June.

The tensions on the government securities market also translated into an increase in banks' liquidity risks. In June the liquidity coverage ratio fell to 159 percent from 171 percent at the end of last year. According to Bank of Italy simulations, it would be reduced to 133 percent in case of an upward shift of the entire sovereign yield curve by 100 basis points.