Bank of Italy Says Bond Market Has Budget Plan in its Crosshairs
(Bloomberg) -- Italy's central bank warned the country's populist government to tread carefully with investors and said its plans to boost growth with more state borrowing won't work.
Deputy Governor Salvatore Rossi said that bond markets are ready to turn against Italy if the government pushes them too far, after months of provocation and mixed messages over its fiscal plans. Increasing the budget deficit won't address the country's economic problems and risks a market backlash that could make things worse, he said.
"They have their finger on the trigger," Rossi, said in a speech in Venice. Italy's low productivity "can't be solved by encouraging the state to borrow more" and "more debt will not resolve the problem" of social inequity and poverty.
After a week of infighting over how to fund the administration's election promises, the government finally released its growth forecasts for next year, fueling skepticism about its economic plans.
A budget-deficit target of 2.4 percent of GDP had already pushed 10-year bond yields to their highest in four years and highly optimistic growth projections raise questions about whether even that objective will be met.
"Whilst government forecasts always fall on the optimistic side, this particular assumption hints at significant fiscal slippage risk ahead in case of an economic slowdown," said Axel Botte, a strategist at Ostrum Asset Management.
The Italian government sees growth of 1.5 percent in 2019, followed by 1.6 percent and 1.4 percent in subsequent years. By comparison, the median in Bloomberg's latest survey is for expansion of no more than 1.2 percent.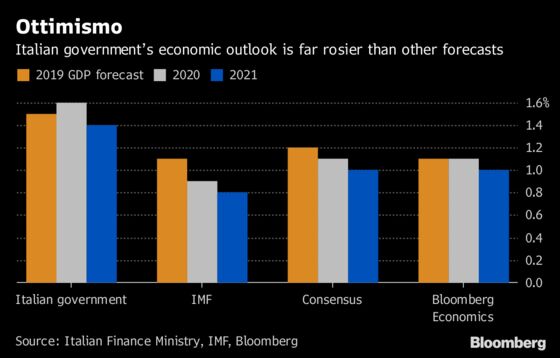 Fabio Fois, an analyst at Barclays Plc, said Friday that his team's forecast for a 1.1 percent expansion implies the deficit will end up close to 3 percent.
Next year's growth under current legislation, or net of the measures included in the 2019 budget, would be limited to 0.9 percent, down from 1.2 percent projected for 2018, the Treasury said in its update to the Economic and Financial Document published late Thursday.
"The growth targets are ambitious, but not unrealistic and could be exceeded for at least two reasons," Finance Minister Giovanni Tria said in the foreword to the report. The finance chief mentioned the impact of planned investments and the elimination of legal and bureaucratic obstacles as well as a gradual reduction of public debt financing costs after tensions on financial markets subside.
What our economists say:

"The budget projections released last night show no commitment to reducing the risk of the country's huge stock of debt spiraling out of control -- the structural deficit fails to decline over the forecast horizon. Even though the debt-to-GDP ratio is projected to decline slightly, it remains very high. That leaves Italy vulnerable to any unforeseen shocks."

--David Powell, Bloomberg Economics. Read the full INSIGHT
Italy's yields climbed again on Friday, with the 10-year rising 8 basis points to 3.41 percent as of 2:02 p.m. in Rome. The nation's benchmark FTSEMIB stock index fell 0.8 percent.
The coalition sees the deficit narrowing to 2.1 percent in 2020 and then 1.8 percent a year after. The 2020 and 2021 figures are lower than initially reported, a concession to investors and EU critics. Under the plans, the debt ratio will decline to 126.7 percent in 2020 from 130.9 percent this year.
"Europe and the markets are first and foremost worried about Italy's public debt," Rossi said.
European Central Bank President Mario Draghi may have discussed the Italian government's "undervaluation" of the budget effect on markets in a Wednesday meeting with President Sergio Mattarella, La Stampa reported on Friday. Draghi may also have warned about yields in the context of the winding down of the ECB's quantitative-easing program, the newspaper said.
Read more: Italy's full macroeconomic forecasts 2019-2021
The two populist parties that forged a governing coalition in June have risen to prominence by blaming the European Union for many of the country's woes.
Deputy Prime Minister Matteo Salvini, who leads the anti-immigration League, said Friday EU economic policy has impoverished his country and "ruined Europe and Italy."
The Five Star-League coalition says its program will help create jobs and boost the pace of growth. But investors are skeptical of a plan that is based on more borrowing.
"The reality is that Italy's problems are not about whether it meets its budget deficit next year or the year after," Talib Sheikh of Jupiter Asset Management told Bloomberg Television. "It's about can they undergo some deep-seated structural change. Italy's ultimate problem is a lack of structural growth and it's not clear to me that many of the populist agendas make any step toward that."