Dollar's to Blame But Central Bank Wants Shekel Going No Further
Israel's currency is appreciating in disconnect from an economy increasingly threatened by a recent surge in Covid-19 cases, according to a top central banker.
The shekel is trading at its strongest against the dollar in nine years, putting it "on the edges of this dynamic window" that the Bank of Israel views as fitting for the currency, Deputy Governor Andrew Abir said in an interview Monday.
Abir attributed much of the recent move to dollar weakness and said that a trade-weighted measure of the currency used by the central bank has been in "a very tight range essentially since the beginning of April."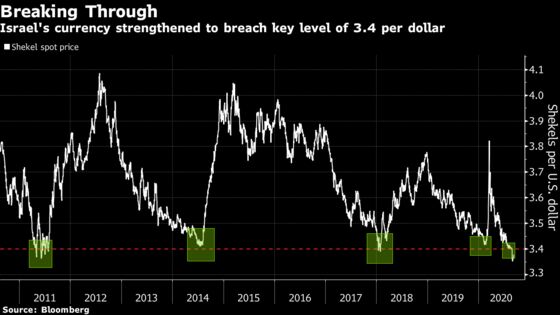 "The shekel is at the moment being relatively optimistic about what's going on in Israel, even in terms of the lack of a budget," Abir said. "We continue to be worried that there's no budget for 2021."
After Abir's comments were published, the shekel erased daily gains versus the dollar to weaken as much as 0.22% and traded little changed as of 11:49 a.m. in Tel Aviv.
Driven by a current-account surplus and inflows of foreign capital, Israel's currency has been a global standout in the last decade. Investors have remained unfazed this year even in the face of a botched reopening from a shutdown to fight the virus and a government split over the budget.
It's a policy dilemma not unlike the challenge facing the European Central Bank as it confronts the euro's strengthening to a two-year high and a shift in strategy by the U.S. Federal Reserve to periodically tolerate faster inflation.
In assessing the outlook, the Israeli central bank's research staff at the end of August laid out two scenarios it described as optimistic and pessimistic.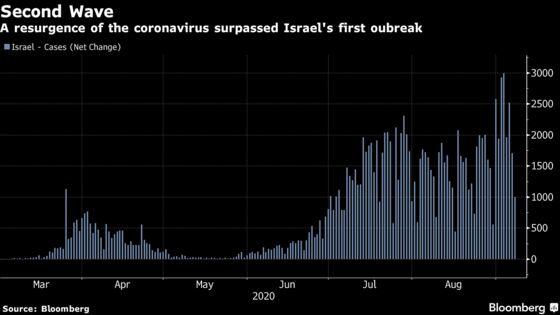 With the country undergoing a sustained second wave of cases that reached new daily highs last week, Abir said the economy is closer to the pessimistic view that envisages output shrinking 7% this year and only rebounding 3% next year.
"In general there seems to be a dislocation between financial markets and the real economy in many areas," he said. "The shekel is also part of that."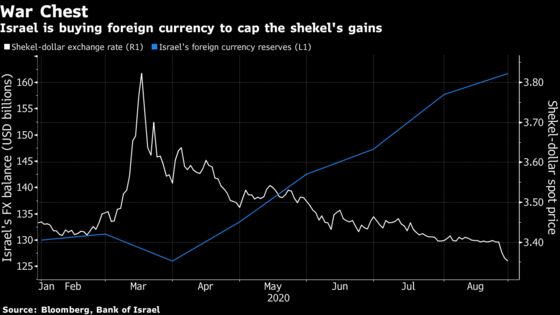 Since the Bank of Israel is reluctant to cut interest rates below zero, it's responded by buying dollars at the fastest pace since 2009 to limit the shekel gains it blames for capping inflation. But in late August, the shekel still broke through the psychological barrier of 3.4 per dollar and has since traded stronger than that level.
"We certainly would not like to see a major appreciation in the shekel from these levels," he said. "That will make it more difficult for the export sector."