Bank of England Confronts Darkening Outlook: Decision Day Guide
(Bloomberg) -- Bank of England policy makers have the opportunity on Thursday to signal to investors and economists whether they're right to predict more monetary stimulus this year.
While no change to the bond-buying program or interest rates is expected when the decision is published at noon in London, the vote split and minutes of the meeting will be critical for insight into the Monetary Policy Committee's intentions.
Market expectations are that quantitative easing will be expanded again in November, and rates could be cut to zero or lower next year. The outlook is clouded by heightened uncertainty though, centered on three key issues: the coronavirus pandemic, Brexit, and the government's fiscal plans.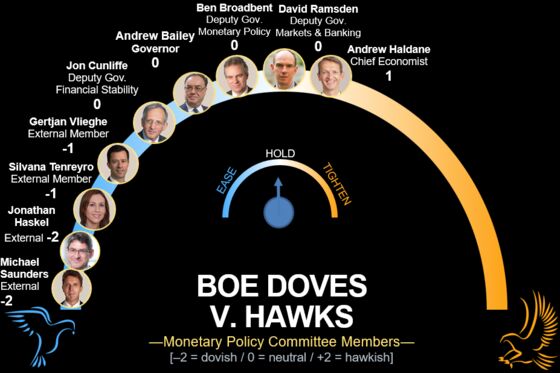 The U.K.'s initial economic rebound from coronavirus lockdowns was strong, but it's now showing signs of fading. New social restrictions have been imposed to stem a surge in infections, just as the government prepares to end its wage-support programs.
At the same time, Prime Minister Boris Johnson's threats to redraw his Brexit deal with the European Union could scupper any chance of a trade accord before the Dec. 31 deadline.
That could all prompt Governor Andrew Bailey and his eight colleagues to hint that more monetary stimulus is ahead. Michael Saunders and Jonathan Haskel are seen as most likely to vote for a new round of QE immediately, after they led the charge for previous bouts of stimulus.
Economists predict that the BOE's 745 billion-pound ($970 billion) bond-buying program will be boosted by 50 billion pounds in November, and market pricing likewise signals more QE.
What Bloomberg's Economists Say

"With the recovery likely to be slower than the MPC expects, we see more stimulus as likely. Despite all the speculation around negative rates, QE is likely to remain the tool of choice."

-Dan Hanson. Read his BOE PREVIEW
Hours before the decision, the Federal Reserve and Bank of Japan both kept interest rates unchanged, with the Fed signaling U.S. rates will stay near zero for at least three years. The BOE has previously pledged not to tighten until U.K. inflation is sustainably moving to its 2% target.
Policy makers have already highlighted jobs as their biggest worry. A report Tuesday showed employment slid by more than 100,000 in July despite shops, bars and restaurants reopening, and losses now total almost 700,000 since the start of lockdowns in March.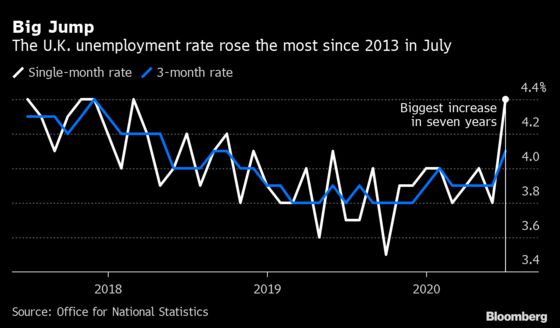 Unemployment, initially suppressed by the furloughs, jumped the most since 2013 in July to reach 4.4%. The BOE anticipates that rate reaching 7.5% by the end of the year as government support expires, though Chancellor of the Exchequer Rishi Sunak hinted Tuesday that he may offer more aid.
The economy as a whole is also bearing the scars of the lockdown. While output rebounded at the start of summer, those gains pale against the record second-quarter slump.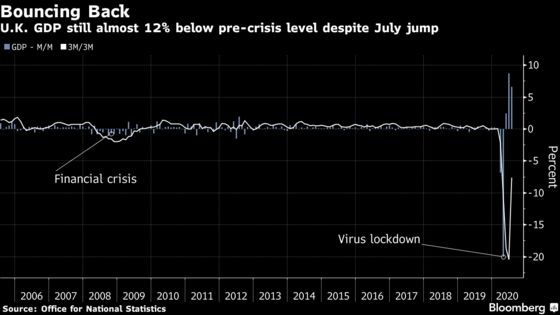 The BOE said in August that output won't return to pre-Covid levels until next year, and Bailey emphasized that there are a "lot of hard yards" ahead.
Saunders said this month that the risks to the central bank's growth forecasts are to the downside, and it should "lean strongly" against such threats.
At the other end of the scale lies Chief Economist Andy Haldane, who says he's "probably a touch more optimistic" than his colleagues.
Consumer-price growth has been less than half the BOE's target since April, and currently stands barely above zero.
While the latest drop is mostly down to government measures to help support the economy -- such as subsidies to eat out -- it nonetheless buttresses the argument that the central bank can safely unleash more monetary easing.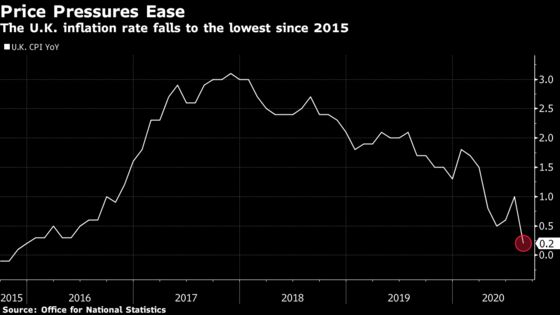 A rate cut probably won't be the BOE's first choice, but money markets are pricing in a reduction as early as February, particularly if trade talks fail. Economists at Bank of America Corp. and Morgan Stanley say the benchmark rate, now a record-low 0.1%, could fall to minus 0.5% in that case.