Bank Indonesia Holds Rate, Pledges More Support for Rupiah
(Bloomberg) -- Indonesia's central bank left its benchmark interest rate unchanged and pledged to do more to support a currency that has weakened as U.S. yields rise.
Bank Indonesia kept the seven-day reverse repurchase rate at 3.5% on Thursday, as predicted by all 28 economists surveyed by Bloomberg. Governor Perry Warjiyo and his board have cut the rate by 150 basis points since the beginning of last year to bolter the economy during the coronavirus pandemic.
Thursday's decision "is not a surprise at all, given the unsettled global yield environment," said Wellian Wiranto, an economist at Oversea-Chinese Banking Corp. in Singapore. After taking rates to a record low last month and easing lending standards, "there's a sense that it will get increasingly hard for BI to find more rabbits to pull out of its hat."
The rupiah ended three days of losses Thursday, adding 0.1%, while the country's benchmark stock index rose 1.1%.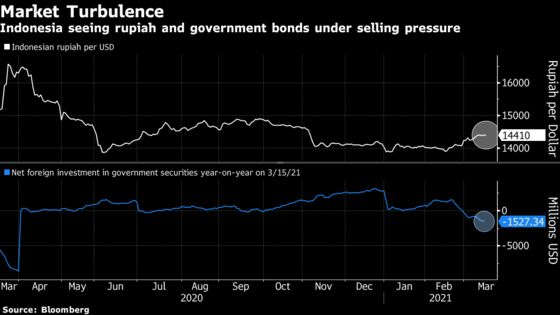 Thursday's decision comes with currency concerns back in play as a rise in U.S. Treasury yields has sparked a sell-off in emerging markets. Indonesian sovereign bonds had seen $1.5 billion of outflows this year through Monday and the rupiah has fallen 2.7% against the dollar over the past month, prompting the central bank to intervene in markets -- efforts it pledged to continue Thursday.
"The rupiah was certainly a key factor toward today's hold decision, but we believe BI still remains relatively more dovish compared to other EM central banks," said Charu Chanana, lead Asia economist at Continuum Economics in Singapore. "Indonesia's economic growth is still fragile, and threats to the central bank's independence will likely keep the central bank on a dovish path for some more time."
Warjiyo, who wants to maintain an interest-rate differential with other countries to attract foreign funds, has said room for further cuts is limited. The latest draft of an omnibus bill, which would more closely align the central bank's mandate with government priorities and formalize its direct funding of government bonds, has concerned markets, though less so than when reforms were first mooted last year.
Warjiyo skipped a question on the omnibus bill during Thursday's briefing.
"Bank Indonesia has made clear that its focus has shifted firmly toward defending the rupiah amid growing outflows. But it also continues to engage in substantial primary market bond purchases this year," which could complicate its currency policy goals, said Joseph Incalcaterra, chief Asean economist at HSBC Holdings Plc in Hong Kong. "BI will have to walk a fine line in coming months if global yields continue to rise."
What Bloomberg Economics Says...

"While Indonesia's growth outlook is improving, still-sluggish domestic demand would in theory keep the door open for more rate cuts this cycle. In practice, though, we are anticipating a policy U-turn by year-end, which we expect will be needed to provide more fundamental support for the rupiah, beyond the repeated intervention currently."

-- Tamara Mast Henderson, Asean economist

Click here to read the full report
The central bank and government have stepped up measures -- such as easing rules on mortgage and vehicle loans, cutting the tax on car sales and boosting the stimulus budget -- as they try to meet an economic growth target around 5% this year. Surveys have shown consumer confidence and spending recovering, and the vaccine rollout is expected to further boost activity.
Easing price pressures have allowed Bank Indonesia to keep policy loose. Still, the shifting global environment means February's rate cut may be the last for a while, with the central bank relying on macroprudential measures instead.
"Warjiyo has run out of cuts for now. A few short weeks removed from easing, the landscape has changed significantly," said Nicholas Mapa, a senior economist at ING Bank in Manila. "It looks like Warjiyo will be looking to push bank lending, but he won't be using his policy tool to do that."