Bank Indonesia Boosts Liquidity With Currency Nearing Record Low
Indonesia's central bank began holding daily repurchase and foreign-exchange swap auctions to bolster liquidity as an investor exodus from bonds and stocks pushed the nation's currency to near a record low.
Bank Indonesia started offering term repos with maturity ranging from 1 week to 12-months from Monday, in addition to extending foreign-exchange swap facilities of one, three, six and 12 month tenors, according to Nanang Hendarsah, executive director for monetary management. The central bank is committed to ensuring ample rupiah liquidity in the market, he said in a text message.
Indonesian assets have bore the brunt of a global market sell-off sparked by concerns over the economic impact of the coronavirus pandemic. With foreign funds pulling a total of $6.8 billion from the nation's bonds and stocks this year, the rupiah has tumbled more than 16% to its lowest level since the Asian financial crisis.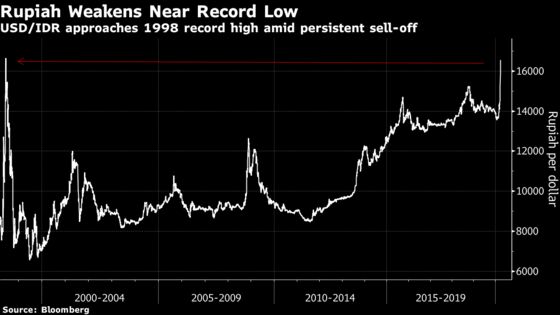 "By flushing the dollars into the market, the central bank wants to show that liquidity is sufficient," said Wisnu Wardana, a Jakarta-based economist at PT Bank Danamon. "The recent monetary operations are only to support confidence because the sell-off occurred in many instruments, and can worsen if the locals follow the foreigners to buy dollars."
The rupiah tumbled 4% against the dollar to trade at 16,625, approaching the 16,950 touched in 1998.
With the rupiah sliding in seven of the past eight weeks, Bank Indonesia has pumped in 300 trillion rupiah ($18 billion) of liquidity into the market through purchases of sovereign bonds, supply of dollars in the spot market and its intervention in the domestic non-deliverable forwards, according to Governor Perry Warjiyo. The country's foreign exchange reserves are adequate to meet dollar liquidity, Warjiyo said last week.
On Monday, Bank Indonesia also announced that it had expanded the scope of underlying transactions for domestic non-deliverable forwards by including rupiah accounts of foreign parties such as savings accounts, demand and term deposits. It also ordered banks to include domestic non-deliverable forwards transactions in their net forex position starting March 20 to grant them greater flexibility to manage their dollar liquidity, Hendarsah said.