Bailey Says BOE Shouldn't Overreact to Temporary Inflation Jump
Bank of England Governor Andrew Bailey delivered a cautious outlook for the U.K. economy, urging policy makers not to overreact to what he said is likely to be a temporary jump in inflation. The pound weakened.
Brushing aside concerns from investors and economists about an unexpected surge in consumer prices above the bank's 2% target, Bailey said the U.K.'s rapid growth surge after coronavirus lockdowns is likely to fade in the coming months. He noted weaknesses in the labor market and reasons that pricing pressures may ease in the coming months.
"Our current view is that the economy will revert to the lower average underlying growth rates that we have seen since the financial crisis," Bailey said in a speech in London on Thursday. "Reverting to the pre-Covid pattern of lower trend growth will bring its own challenges."
The remarks strengthen the impression that the BOE will overlook a surge in inflation to 3% this year while the economy recovers from 16 months of coronavirus lockdowns. Bailey spoke a day after Andy Haldane in his last speech as BOE chief economist urged policy makers to tighten monetary policy before inflation takes hold.
The pound slumped, falling to its lowest since April at $1.3773. Traders also wound back bets on BOE rate increases, pricing in about 22 basis points of tightening in November 2022 compared to 25 basis points before the speech.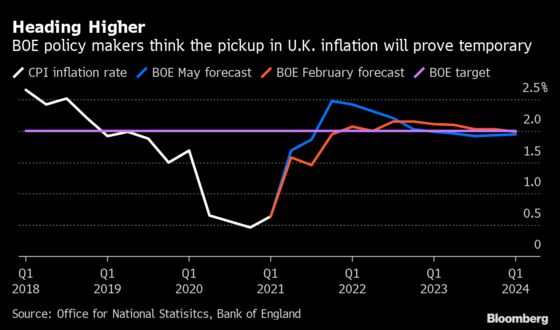 "The one thing that was propping up the pound in the face of the resurgent Covid pandemic was the expectation the BOE will start normalizing its rates next year," said Credit Agricole's head of G-10 FX research Valentin Marinov. While raising rates between 10 and 25 basis points is still in the cards for next year, "it is unlikely to grow into a tightening cycle in 2023," he said.
Bailey said part of the recent surge in inflation increase was due to statistical comparisons with a year ago and shortages that emerged when shops and restaurants were allowed to reopen. Those effects "should not last," and there's likely to be a further drop in pricing pressures as further loosening of the rules allows overall consumption in the economy to shift away from goods and toward services.
"It is important not to over-react to temporarily strong growth and inflation, to ensure that the recovery is not undermined by a premature tightening in monetary conditions," Bailey said.
While Haldane sees prices rising close to 4% by the end of the year, Bailey reiterated the bank's forecast for inflation to peak at 3% and then fall back toward the BOE's target next year.
In addition to supply chain bottlenecks and pressures on demand, labor shortages pose a further downside risk.
"We could see wage pressures arising if the number of people in worker or seeking work does not return to pre-Covid levels and inactivity remains at a higher level," Bailey said.
Bailey said that policy makers will monitor carefully how prices respond in coming months and respond quickly if needed. He noted price pressures are creeping into the cost of raw materials and that he's watchful for "signs of more persistent pressure and for a move of medium term inflation expectations to a higher level."
"If we see those signs, we are prepared to respond with the tools of monetary policy," he said.