Australians Put More Trust in China's Xi Than Donald Trump
(Bloomberg) -- Australians have less confidence in President Donald Trump than Chinese counterpart Xi Jinping, but remain convinced that the U.S. alliance is vital for the country's security, according to a survey.
About 30 percent of Australians have confidence Trump will "do the right thing in world affairs," according to an annual Lowy Institute survey released Wednesday. The U.S. commander-in-chief comes seventh out the nine leaders ranked in the survey, behind U.K. Prime Minister Theresa May (68 percent) and Xi (43 percent) and ahead of Russia's Vladimir Putin (19 percent) and North Korea's Kim Jong Un (5 percent).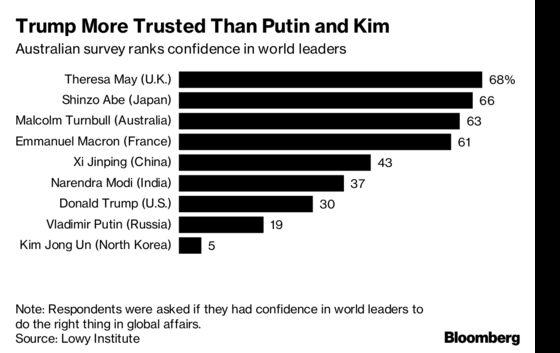 Australia is seeking to maintain its military alliance with the U.S., which it boasts of having supported in every major conflict since World War I, while increasing its economic relationship with China. That balancing act has become increasingly fraught, with Beijing accusing Australia of creating tensions after Prime Minister Malcolm Turnbull said Chinese meddling in national affairs were a catalyst for his proposed anti-foreign interference laws.
About 76 percent of those surveyed said Australia's alliance with the U.S. was important for national security, almost unchanged from the year before. The survey was conducted in March through 1,200 interviews.
"There is no question that Donald Trump's presidency has eroded Australians' trust and confidence in the United States as a responsible global actor," Lowy Institute Executive Director Michael Fullilove said in the survey report. "Yet despite concerns about the current occupant of the White House, Australians' support for the U.S. alliance has held firm."
Other survey findings include:
72% say the government is allowing too much Chinese investment, compared with 56% in 2014
63% are concerned about Chinese influence in domestic politics
66% see terrorism and North Korea's nuclear program as critical threats
54% say the total number of migrants coming to Australia is too high