Australian Unemployment Drops to Lowest in More Than Six Years
(Bloomberg) -- Australia's jobless rate fell to the lowest in more than six years in September as fewer people sought work, suggesting the drop is unlikely to alter the Reserve Bank's policy outlook.
While unemployment fell from 5.3 percent to 5 percent -- the level estimated by the central bank to signal full employment -- the workforce participation rate declined to the lowest in almost a year. The data was released by the Australian Bureau of Statistics in Sydney.
The Data
Jobs rose 5,600 from August; economists forecast 15,000 gain
Unemployment rate was 5%, the lowest since April 2012
Full-time jobs climbed 20,300; part-time employment fell 14,700
Participation rate fell to 65.4% from 65.7%
"From a Reserve Bank perspective, this is a mixed job report," said economist Callam Pickering of global jobs site Indeed, who previously worked at the central bank. "The unemployment rate may be well below their official forecasts but broader measures of unemployment remain elevated. There is also nothing positive about participation falling."
Australia's monthly jobs data is prone to volatility as samples rotate, while the RBA tends to look at longer-term trends to gauge the labor market's health. Moreover, while the central bank estimates 5 percent is about the level where employers begin to offer higher wages to attract workers, current global trends suggest jobless rates have to fall further to do that than in the past.
"Recent international experience indicates that the unemployment rate could decline further than historical experience would suggest before we see a material increase in wages growth," Deputy Governor Guy Debelle said in a speech about the labor market on Wednesday.
The RBA, in its most recent outlook, forecast unemployment would only reach 5 percent at the end of 2020.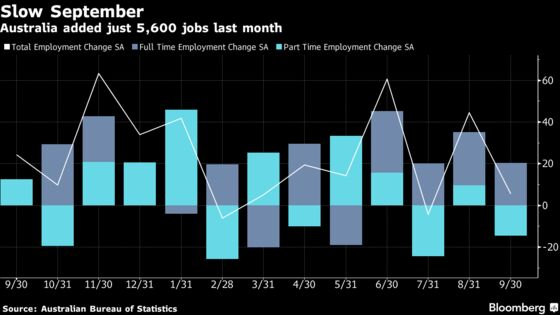 What Our Economists Say...
Australia's hiring slowed in year-on-year terms in September for a third month in a row, even as the unemployment rate plunged. With real wage growth stagnant and household debt yet to peak, a rate hike by the RBA still appears a long way off.

-- Tamara Mast Henderson, Bloomberg Economics

For more, see our Australia Insight
The state of Victoria led gains with 20,000 jobs, while New South Wales, the most populous state, added 2,800 and its jobless rate fell to just 4.4 percent.
The central bank has kept its key interest rate at a record low for a prolonged stretch to help boost hiring and spur the economy, which expanded at the fastest pace in six years in the second quarter. That, in time, should rekindle inflation and potentially clear the path for the first rate hike since 2010; however, traders see little prospect of that happening in the next 12 months.
"The unemployment rate fell to the RBA's estimate of the natural rate in September, two years and three months ahead of schedule. But our message on whether that will trigger much faster wage growth is 'don't hold your breath'," said Paul Dales, chief economist for Australia at Capital Economics.