Australian Trade Minister Rebuffs Indonesian Pressure on Israel
(Bloomberg) -- Australian Trade Minister Simon Birmingham signaled the country isn't likely to succumb to pressure from Indonesia, which has suggested it won't sign a negotiated free-trade deal as long as Australia is considering moving its Israeli embassy to Jerusalem.
Australia "won't be dictated to" in foreign policy, Birmingham said on ABC TV's Insiders program Sunday.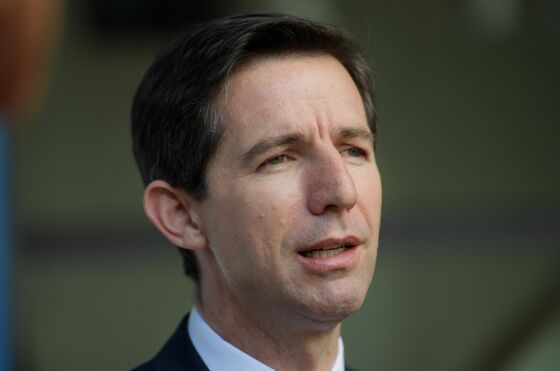 The FTA is unlikely to come into effect while Australia considers moving its Israeli embassy to Jerusalem, the Australian Financial Review reported Nov. 14, citing Indonesian Trade Minister Enggaritiasto Lukita. Australian Prime Minister Scott Morrison said last month that he is considering following U.S. President Donald Trump's lead in moving the nation's embassy in Israel to Jerusalem.
Australia and Indonesia in August concluded talks that began in 2010 on a free-trade deal. In 2017, two-way trade of goods between the nations was A$11.2 billion ($8.2 billion), making Indonesia Australia's 14th-largest trading partner.
Morrison said in a Bloomberg Television interview on Nov. 12 that there's "no hurry" to sign the deal despite negotiations being concluded and earlier indications the pact would be officially announced this year.
Indonesia's concerns about the Australian embassy in Israel are "a quite separate matter," Birmingham said Sunday. Australia will consider the economic and security implications of the embassy decision in the next few weeks to make a fully informed decision that is aligned to its national interest, he said.
Birmingham also criticized U.S. trade tariffs.
"All of those protectionist instincts, all of those increases in the tariffs are of course a potential dampener to global economic growth and that has repercussions to us and every other country," said Birmingham.
The U.S. has targeted $250 billion in Chinese imports for tariffs. In retaliation, China has identified levies for $110 billion in imports from the U.S. and has effectively shut off its purchases of key American agricultural exports including soybeans.
China's President Xi Jinping said at the Asia-Pacific Economic Cooperation CEO summit on Saturday in Papua New Guinea that a trade war will produce "no winners." Implementing tariffs and cutting economic ties "is a short-sighted approach" doomed to failure.
"We've been encouraged by some of the recent signs that suggest there has been between President Xi and Donald Trump increasing levels of dialog and we hope that will continue in the G20," said Birmingham.