Australian Jobs Market Softens in Setback for 2019 Wage Gains
(Bloomberg) -- Australia's labor market softened a little in November in a setback for the Reserve Bank's drive for higher wages and faster inflation.
Unemployment climbed to 5.1 percent and underemployment also rose, lifting the underutilization rate that combines both gauges to 13.6 percent, statistics bureau data showed in Sydney Thursday. On a more positive note, the rise in joblessness was driven by more people seeking work.
"The underutilization rate has a strong relationship with wage growth," said Callam Pickering, an economist at global jobs website Indeed, who previously worked at the central bank. "Unfortunately, this suggests that sluggish wage growth will again be a feature of the economy in 2019."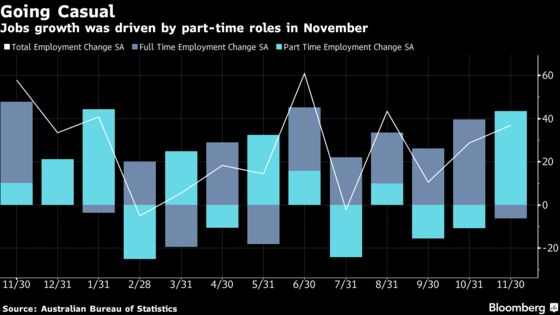 The data drew little reaction from markets due to its mixed nature: employment jumped 37,000 but full-time jobs fell and hours worked declined. The labor market is a key metric for the RBA as it uses a record-low cash rate to juice economic growth and push down unemployment, with the goal to force employers to offer higher pay to workers.
The strategy has paid dividends, with employment growing strongly this year and last, and the jobless rate largely held up by an expanding labor force -- also a sign of optimism. But an accelerating slump in property prices that culminated in weaker economic growth last quarter -- as household spending slowed sharply -- has started to spook markets.
Investors are now beginning to doubt the RBA's regular refrain that the next rate move is likely to be a hike, with money markets pricing in a slim chance of a cut in 2019.
"Cracks are beginning to show, particularly surrounding the property market, and that might spill over to employment next year," Pickering said. "Several industries, including construction, finance and retail, may come under pressure as prices fall and wealth is destroyed."
On top of that, Australia is expected to go to the polls in May. Westpac Banking Corp.'s Bill Evans has noted that the past two federal elections coincided with a downturn in hiring as firms moved to the sidelines.
What Our Economists Say...
"Though slower, the pace of job creation remains robust overall, particularly in the context of record hiring last year."

-- Tamara Mast Henderson, Bloomberg Economics

For more, see our Australia Insight
The participation rate climbed to 65.7% from a revised 65.5% in October; economists predicted 65.6%
The underemployment rate increased 0.2 percentage point to 8.5%; the underutilization rate rose by the same amount
Hiring was entirely driven by part-time roles, which increased by 43,400. Among the states, Victoria recorded the biggest hiring gain, while New South Wales posted the biggest loss