Australia Employment Works in Central Bank's Favor as Jobs Surge
(Bloomberg) -- Australian employment surged in October as the central bank's record-low interest rates spurred hiring, while the jobless rate remained at a six-year low despite an expanding workforce.
Jobs rose 32,800 from September, led by full-time hiring
Unemployment rate held at 5% as participation rose to 65.6%
The report suggests the Reserve Bank's patience -- after keeping the cash rate at 1.5 percent for more than two years -- is now being rewarded with stronger employment and faster economic growth. Governor Philip Lowe is betting on a tightening labor market to fuel wage growth and inflation and lay the ground for the first rate increase since 2010.
"The Reserve Bank would be very happy with today's report," said Callam Pickering, economist at global jobs website Indeed, who previously worked at the RBA. "It consolidated the gains from last month and strong growth in full-time roles points to a thriving jobs market."
The Australian dollar rose to 72.70 U.S. cents at 2:34 p.m. in Sydney from 72.35 cents before the report. Traders are now pricing in about a 40 percent chance of a rate hike in August next year, from 25 percent before the data.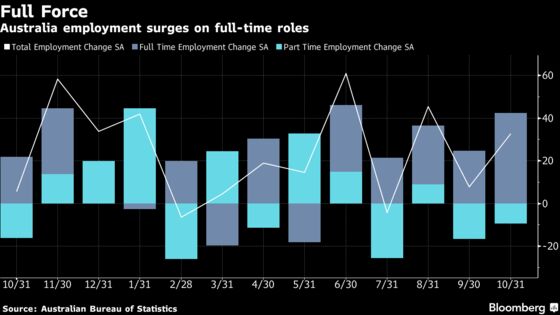 What Our Economists Say...

Improved hiring momentum and faster wage growth "is building the case for the Reserve Bank of Australia to start normalizing monetary policy next year. If current trends persist, we'd expect a 25 basis point increase in the cash rate target to 1.75 percent by the fourth quarter of 2019."

-- Tamara Mast Henderson, Bloomberg Economics

For more, see our Australia Insight
The data followed a report Wednesday showing wages rose 2.3 percent in the third quarter, the fastest annual pace in three years. Still, economists noted the outcome was boosted by a hike in the minimum wage. Inflation, meanwhile, is still just below the bottom of the central bank's 2 to 3 percent target.
"Much progress still needs to be made, which suggests that a rate hike in the near-term is unlikely, but it is still a step in the right direction," Pickering said. "Wage growth, rather than employment, is the more pressing issue for the RBA."
Results By State:


New South Wales led gains by state, adding 16,300 jobs, while the biggest loss of 3,500 roles was seen in Victoria
Queensland's unemployment rate jumped to 6.3 percent, the nation's highest, while New South Wales's remained at 4.4 percent