Australia Warns of 'Double Whammy' Risks to Commodities Outlook
(Bloomberg) -- Commodities are at risk from a "double whammy" of rising trade tensions and a substantial slowdown in global growth, the Australian government warned, as increasing uncertainty threatens to hinder record exports from the raw materials powerhouse.
While Australia's resources and energy shipments are set to reach an all-time high of A$264 billion ($188 billion) this financial year, there are growing risks to that outlook, the Department of Industry, Innovation and Science said in a quarterly report. Industrial production has peaked, monetary conditions aren't stimulatory, China's economy may slow and the strong dollar is weighing on commodity prices, it said.
It's more bad news for producers of natural resources after a year in which the Bloomberg Commodity Index, which tracks 22 raw materials including gold, copper, crude oil, natural gas and corn, is headed for its first annual decline since 2015. Australia is the world's biggest exporter of iron ore and coal and is en route to overtake Qatar as the largest supplier of liquefied natural gas.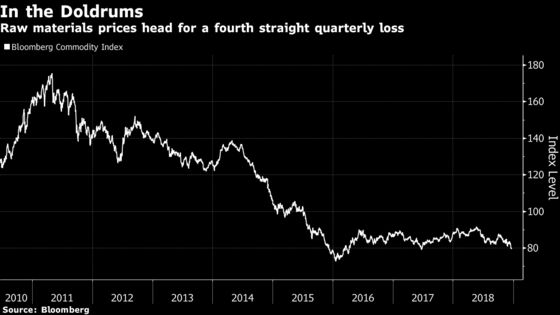 U.S.-China trade tensions are magnifying risks and have helped push copper, nickel and aluminum lower this year, according to the department. With the spat still unresolved, 2019 is shaping up to be another eventful year as Brexit negotiations loom, U.S. fiscal stimulus may begin fading, the extent of Federal Reserve rate hikes remains unclear and China's outlook is uncertain.
Stimulus-driven commodity demand helped Australia to withstand the global financial crisis, but there's now less room to move with fiscal and monetary policy, the department said.
While Australian exporters may benefit from China's commitment to infrastructure and stimulus to curb the economic impact of U.S. tariffs, the measures may reduce its ability to further respond to any substantial slowdown in global growth in coming years, the department said. That's key for iron ore, which is Australia's most valuable export.
Iron ore prices will decline to $50.70 a metric ton in 2020 from $52.60 in 2019 and $61.70 this year on waning demand, ample supply and growing use of Chinese scrap, the department predicts. Steelmakers in the world's top producer will use more scrap to boost productivity and lower emissions, curbing demand for iron ore.
China's iron ore imports are on track for an annual decline this year and are also set to fall in 2019 and 2020, according to the department's forecasts. The country's steel production will steady next year and then decline on slowing economic growth.
Australia's iron ore shipments will drop to A$57 billion in the 2019-20 financial year from A$64 billion this year. The country's total resources and energy exports will drop to A$241 billion.