Australia Vows Pacific Pivot  Amid China Concerns
(Bloomberg) -- Prime Minister Scott Morrison vowed to increase Australia's military and diplomatic engagement in the South Pacific amid concerns the nation's influence is waning as China thrusts into the region.
Morrison on Thursday said his government will set up a A$2 billion ($1.46 billion) infrastructure fund for the region, increase naval deployments and carry out more military exercises with island nations.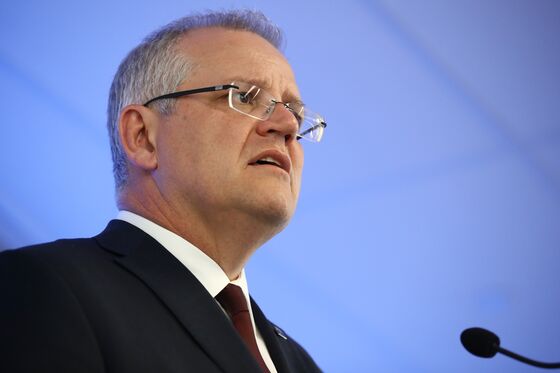 "This is our patch," Morrison said in comments released by his office. "It's where Australia can make the biggest difference in world affairs."
Australia, a key ally of the U.S., has hit rocky diplomatic ground in the past year with China, its main trading partner. Tensions were raised when the government voiced concerns about Beijing-backed companies funding infrastructure in Pacific nations, amid fears that could lead to Chinese military bases in the region.
The government on Wednesday rejected CK Group's A$13 billion ($9.4 billion) bid for gas pipeline operator APA Group on national security concerns, a decision that has the potential to further inflame diplomatic tensions.
The timing of Morrison's announcement is potentially awkward for Foreign Minister Marise Payne, who held talks Thursday with counterpart Wang Yi. After the meeting, Wang said China and Australia were "not competitors, not rivals, but partners" in the region.
"In our respective way, we can contribute to the development and prosperity in the Pacific island countries," Wang said.
While the Pacific has traditionally been seen as Australia's diplomatic turf and is the biggest recipient of foreign aid from Canberra, China has been increasing loans to small, indebted Pacific island nations.
Morrison's announcement of increased engagement in the Pacific comes after he said last week that Australia is formally committing to a joint initiative with Papua New Guinea to develop a naval base, edging out a bid by China.
That followed a June announcement that Australia will help fund a new telecommunications cable stretching from Sydney to the Solomon Islands, squeezing out Huawei Technologies Co. -- a company that in August was banned from supplying next-generation wireless equipment to Australia's telecom operators on national security grounds.
Other measures announced by Morrison on Thursday include:
Holding annual meetings of defense and police and border security chief
Opening a Pacific faculty at the Australian Institute of Police Management
Opening diplomatic missions in Palau, the Marshall Islands, French Polynesia, Niue and the Cook Islands
Still, the change of emphasis into the Pacific for Australia may not be sustained. Since replacing Malcolm Turnbull as leader in August, Morrison has failed to gain momentum for his Liberal-National government in the polls, which show he's on track to lose power to the Labor opposition in elections expected by May.
Morrison is set for meetings with world leaders next week at the East Asia Summit in Singapore and Asia-Pacific Economic Cooperation in Papua New Guinea. He said in a Nov. 1 speech at an Asia Society event hosted by Bloomberg in Sydney that "China is the country that is most changing the balance of power" and "exercising unprecedented influence in the Indo-Pacific."