Australian Employment Dropped in April as Wage Subsidy Ended
Australian employers cut jobs in April, coinciding with the first full month after the government's JobKeeper wage subsidy concluded, while the unemployment rate also declined as fewer people sought work.
The economy shed 30,600 positions, led by a 64,400 drop in part-time roles, while full-time employment advanced, data from the statistics bureau showed Thursday in Sydney. The jobless rate fell to 5.5% from an upwardly revised 5.7% in March, as the participation rate edged back to 66% from 66.3%.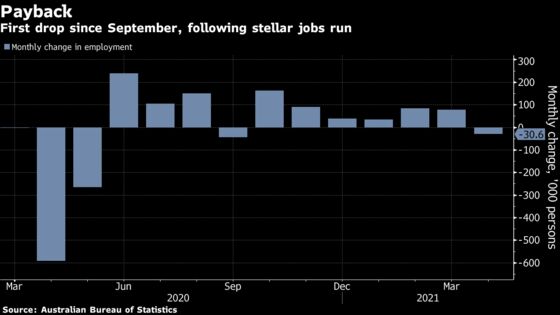 "Our first post-JobKeeper jobs report was a mixed bag," said Callam Pickering, an economist at global jobs website Indeed Inc. "The ABS doesn't attribute the decline in employment directly to JobKeeper ending. We are unlikely to see the full impact of JobKeeper on employment trends until May."
The Australian dollar tumbled 0.2% to 77.17 U.S. cents immediately after the report, driven by algorithmic trading, before recovering quickly. It was buying 77.33 cents at 12:22 p.m. in Sydney.
The employment result brings an end to a string of hiring increases and may foreshadow difficulties for other developed economies as they seek to wind back emergency fiscal support measures. Yet both the Reserve Bank of Australia and Treasury expect that the labor market's strengthening will resume after this period of adjustment.
The fiscal and monetary authorities are combining to drive down unemployment in order to revive wages growth and inflation.
Among other details in today's jobs report:
Monthly hours worked slid 0.7% in April
Under-employment decreased by 0.2 percentage point to 7.8%; and
Under-utilization declined 0.4 percentage point to 13.3%
What Bloomberg Economics says...

"The decline coincided with the expiry of temporary wage-subsidy stimulus, but seasonal factors were the key driver of the weakness. We expect a return to employment growth over coming months, based on forward-looking indicators of labor demand."

-- James McIntyre, economist

For the full note, click here
The RBA is due to decide in July whether to roll over its three-year yield target bond to November 2024 from the current April 2024 and whether to undertake further quantitative easing. It's in the second A$100 billion ($77 billion) tranche of QE, having cut the cash rate to near zero.
The government last week announced an expansionary budget that's designed to keep the economy running hot and get more people into employment.
The central bank's updated quarterly forecasts show the jobless rate falling to 5% by the end of this year and 4.5% at the end of 2022. Under an optimistic scenario for unemployment, the rate would drop to 3.75% by mid-2023.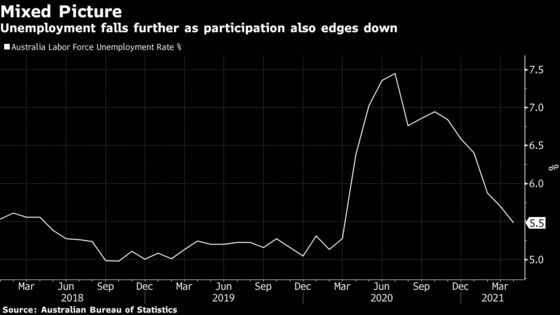 The labor market is at a potential inflection point with the March 28 expiry of JobKeeper, designed to keep workers attached to their employers. Treasury estimated between 16,000 and 40,000 roles were lost in the two weeks immediately after the program's end.
Yet business sentiment in April broke new records with the employment, profitability and trading indicators all surging. Job advertisements also continued to suggest future gains in hiring, rising 4.7% in April.