Australia's Labor Market Softens as Full Impact of Delta Looms
Australia's labor market softened in July, despite the jobless rate falling to the lowest level since 2008, as an outbreak of the delta variant of coronavirus shuttered Sydney and put people off looking for work.
Hours fell and under-employment climbed in a sign of the pressure that stay-at-home orders are beginning to exert on the job market, data from the Australian Bureau of Statistics showed Thursday. Unemployment fell to 4.6%, driven mainly by a fall in the participation rate.
"Falls in unemployment and the unemployment rate may be counter-intuitive, given they have coincided with falls in employment and hours,"  Bjorn Jarvis, head of labor statistics at the ABS, said in a statement. But they "reflect the limited ability for people to actively look for work and be available for work during lockdowns."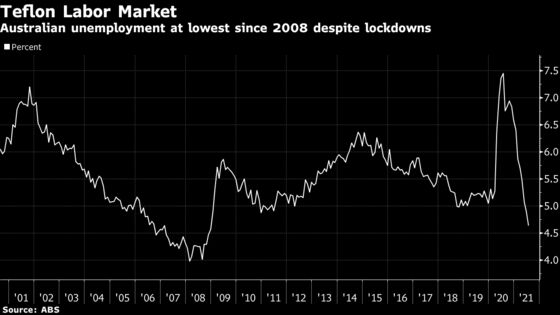 The job picture is likely to worsen due to virus outbreaks that have emerged all along the east coast, forcing lockdowns and curtailing economic activity in Australia's most populous region. The Reserve Bank said this week it was prepared to respond if the health situation resulted in a "significant setback" for the recovery.
What Bloomberg Economics Says

"Australia's labor market results for July present a muddled picture, with the timing of the underlying survey capturing the beginning of lockdowns that have upended the economy over recent weeks. A deterioration in both employment and hours worked is likely over coming months"

--James McIntyre, economist. 

To read the full report, click here.
The Australian dollar edged down after the report and traded at 72.05 U.S. cents at 1:07 p.m. in Sydney.
A slow nationwide vaccine rollout is Australia's biggest obstacle to getting the economy back to normal and reopening borders that were closed in early 2020. 
The nation suffered its worst day since the start of the pandemic, with total daily cases surpassing the previous record posted more than a year ago. New South Wales recorded 681 and Victoria state 57 new infections.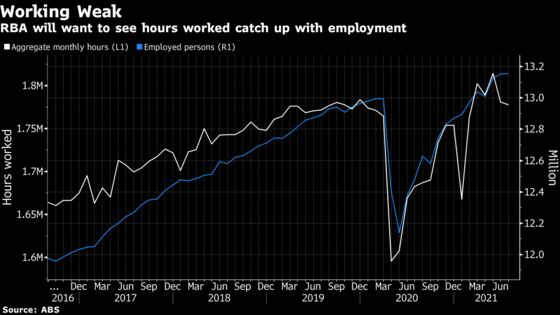 Among other details in today's report:
Monthly hours worked fell by 0.2% in July
Under-employment increased by 0.4 percentage point to 8.3%; and
Under-utilization rose 0.1 percentage point to 12.9%
Full-time roles fell by 4,200 while part-time positions increased 6,400
The RBA earlier this month said it planned to press ahead with a tapering of bond purchases in September, betting on a rapid recovery from an expected virus-induced contraction this quarter. Yet the deteriorating picture since then raises questions over that plan.
"The longer this continues the greater the damage to jobs and economic activity," said Callam Pickering, an economist at global jobs website Indeed Inc. who previously worked at the central bank. "It is becoming increasingly clear that policy normalization just won't be possible until Covid is beaten."