Australia's Top Cop Warns of `Unprecedented' Foreign Meddling
(Bloomberg) -- Australia's police chief warned the nation is facing "unprecedented levels of foreign activity," in a thinly disguised dig at China's growing influence in the country.
"We can't be complacent about the risk of foreign interference in our system of democracy," Australian Federal Police Commissioner Andrew Colvin said in an Australian Broadcasting Corp. television interview late Thursday in response to a question about the threat of Chinese interference.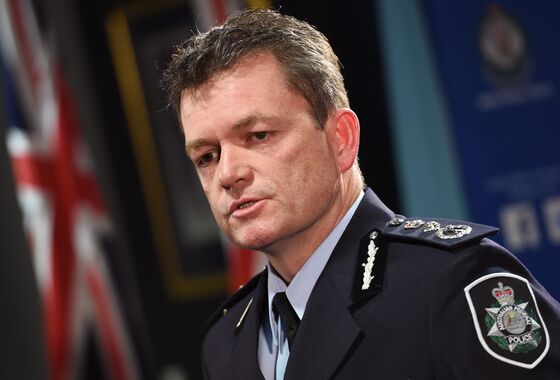 Relations have soured since December when Prime Minister Malcolm Turnbull said reports of Chinese meddling with media, universities and lawmakers were a catalyst for tougher anti-foreign interference laws. Australia has more at stake than other nations pushing back against Beijing's growing influence -- China is by far its biggest trading partner, accounting for about 28 percent of its global commerce.
Colvin warned of "people who want to gain access to information that is of advantage to them in a diplomatic sense through to people trying to influence outcomes in this country."
He welcomed the government's planned new foreign interference law. When passed, the legislation will ban foreign political donations and require people or organizations acting in the interests of overseas powers to register and disclose their ties.
The legislation "goes a long way toward modernizing what have been fairly outdated espionage laws in this country," Colvin said. "It goes a long way toward modernizing that criminal conduct of foreign actors operating in Australia in a covert or deceptive way."
The business community is concerned that the spat is hurting trade. The Australian Meat Industry Council has blamed tensions for delays in a deal China signed last year to pave the way for more than $300 million of annual Australian beef and lamb exports to the country.
Treasury Wine Estates Co. on Thursday said China customs had delayed shipments due to new requirements that "seemingly only apply to Australian Country of Origin wines" -- its shares fell 6.2 percent.
Trade Minister Steven Ciobo arrived in Shanghai this week to promote economic ties in what Fairfax Media said was the first visit to the nation by an Australian minister this year.
While Foreign Minister Julie Bishop on Wednesday claimed that "some of the commentary about the current state of the Australia-China relationship is ill-informed," an editorial in the Beijing-backed Global Times the day before painted a grimmer picture.
"Sino-Australian relations have dropped to their lowest point," the Global Times said. "Australia is obstinate about hyping China's threat, with its so-called evidence originating with its radical interpretation of Sino-Australian economic and cultural exchanges. China isn't viewed as a contributor to the country's economic and societal development but a destroyer of its national security."