Australia's 'Paradox of Thrift' Risks Japan-Style Price Weakness
(Bloomberg) -- Australia's federal and state governments are curbing pay rises among officials to try to save cash and avoid a political backlash, yet are risking entrenching the sort of disinflationary impulse that's long hobbled Japan.
The federal government in Canberra unveiled a new policy that requires public sector wage increases not exceed those of private industry. New South Wales, the nation's biggest state, initially planned a wage freeze during the Covid pandemic, until its own Treasury warned this would deepen the recession. It compromised with a still-low 1.5% increase.
The need for governments to set a marker for the private sector is especially important when the central bank wants wage growth to help lift inflation sustainably within its 2-3% target band. Without scheduled public sector wage hikes, Australia risks being pulled into a Japan-style trap of price weakness, which became ingrained partly because of meager wage growth among government workers.
"What seems like the right thing to do at the micro level -- tighten belts in a recession or as part of prudent public administration -- is the opposite of what the macro doctor would order," said Paul Sheard, a senior fellow at Harvard University's Kennedy School who had a front row seat during Japan's multi-decade struggles with stagnation and deflation, as an economist in Tokyo. It's what Keynes termed "the paradox of thrift."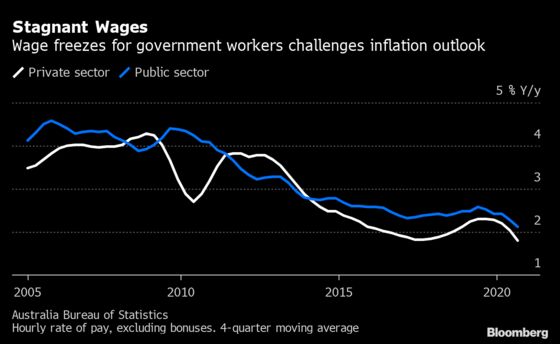 Reserve Bank of Australia Governor Philip Lowe warned in August last year that government restraint was suppressing wages across the board, and urged public sector pay increases of "three-point-something." This is now even more challenging with thousands out of work following the pandemic shock, pulling wages growth to record lows.
The central bank recently adjusted its 2-3% inflation target so that consumer prices have to actually reach that level, rather than being forecast to, before it reacts. The switch is a nod to weak price pressures. Yet in a world of high unemployment and stingy politicians, returning to that level of CPI -- rarely achieved in the past half decade -- is likely to be a Herculean task.
What Bloomberg Economics Says

"As the largest participant in the labor market, government wage decisions have far reaching impacts across the economy. Wage freezes lower the opportunity cost of labor to other sectors, structurally reducing wage rises regardless of the state of the labor market."

-- James McIntyre, economist
The irony of the parsimonious attitude toward pay is governments are throwing around billions of dollars in stimulus programs to support the economy and ratcheting up debt to an extent that makes such restraint almost irrelevant.
To make the new wage guidance more palatable, the federal government scrapped a 2% cap on wage gains, meaning that when businesses are boosting pay, public servants could also enjoy larger gains.
The danger is "a negative feedback loop becomes entrenched: low inflation outcomes lower the public's inflation expectations, which in turn keeps inflation low," said Sheard, who hails from Australia. "This in a nutshell is the story of Japan's two-decade deflation."